Brexit – New Opportunities for Austria?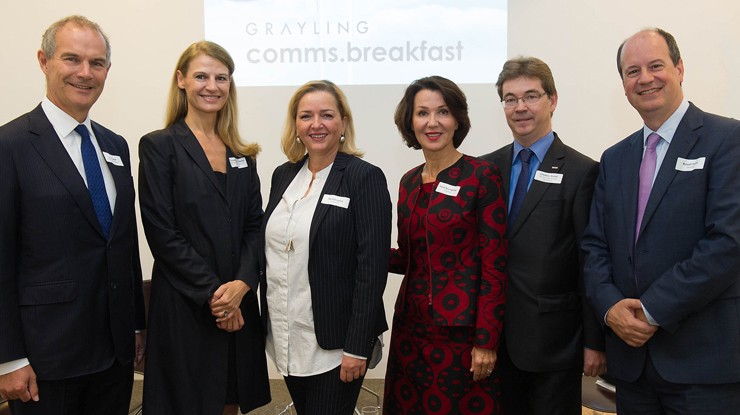 18th September 2017
---
Britain is scheduled to leave the EU in 2019. The clock is ticking and businesses both in the UK and in Continental Europe are desperate for some clarity, but there are many complex obstacles to overcome (e.g. trade and customs arrangements, certification of goods, etc.). What are the views of London and Brussels on the state of the negotiations? What kind of progress has been made so far? What will the economic and political consequences be once Brexit is completed? What's in store for Austrian businesses in different sectors? What challenges will British and Austrian expats face in their respective job markets? And could Vienna be the new host of the European Medicines Agency or the European Banking Authority?
These and other questions connected to Britain's vote to leave the EU were on the agenda of the Grayling comms.breakfast in Vienna with Yvonne Toncic-Sorinj (Director for General EU Matters and EU Institutions, Austrian Foreign Ministry), Leigh Turner (British Ambassador to Austria and UK Permanent Representative to the United Nations and the OSCE in Vienna), Christian Mandl (EU negotiator, Austrian Economic Chamber) and Russell Patten (CEO Grayling Brussels and Chairman of Grayling European Public Affairs) as panelists. The discussion was led by Imma Baumgartner (Grayling Austria's Head of International Public Affairs).

The comms.breakfast is a series of talks held in the Grayling offices on the Siebensternplatz in Vienna where we discuss current communication trends impacting businesses and organisations alike. The event is hosted by Grayling CEO Sigrid Krupica.
Photo:
(From left:) Leigh Turner, Yvonne Toncic-Sorinj, Sigrid Krupica, Imma Baumgartner, Christian Mandl and Russell Patten. Copyright: Grayling / Photo: Frank Helmrich
---
Grayling Team