It's a loud world out there, but do you have to shout to be an influencer?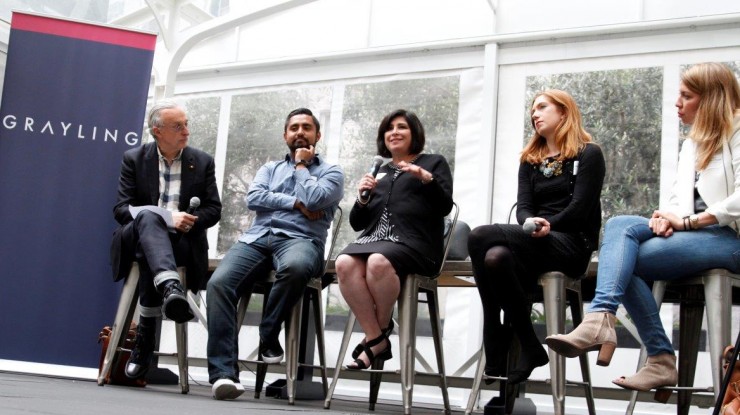 10th August 2017
---
Brigit Carlson reflects on the nature of influence.
It's become impossible to ignore social media. We live in a world where the nightly news spends time dissecting the latest tweets from our President. As communicators, we know that successful delivery of messages lies, largely, in the medium. So how much influence does social media have over people, exactly? And, where, amidst the clamor, does traditional media get its say? What is the interplay between the two?
Last night, in partnership with our friends at Techonomy, we sat down with experts from CNET, FT, Reuters and GE to discuss this.
One of these experts, Connie Guglielmo, editor-in-chief of CNET, immediately came out in strong support of traditional media. News organizations need to offer their readership a buffet, she said, rather than a steady diet of just vegetables or just meat and potatoes. The renaissance of long form journalism and continued support of print editions seem, indeed, to point to this. However, all the technology out there has changed the news cycle. How do you plan content for a print edition even 24 hours ahead of time when anyone can break the news in 140 characters or less?
Reuters technology reporter, Salvador Rodriguez, acknowledged that to be truly influential and engaged on Twitter, he has to think of himself as a 24-hour news channel. While this kind of citizen journalism has, on one hand, provided us with much more timely content and, arguably, pushed reporters to be faster, more accurate and more engaged with their readers, on the other, it has turned the news into a game of telephone.
The panelists agreed on this point – to the modern reader adrift in a sea of potentially fake news, what matters most is a careful handling of the facts and, above all, transparency. Readers want to feel like they have an inside look at what is going on in the media. The way we've seen this play out is evident in two ways: The first, as Hannah Kuchler of the FT put it, readers want to hear about how a journalist was sleeping on the Senate floor at two in the morning to be perfectly positioned to get the scoop. Second, readers want to know that their news is coming from a reliable, unbiased source.
In the age of social media, nearly every adult in America has the UVPM of a small trade pub, and news travels unfathomably fast. The previously mentioned game of telephone can result in not only fake breaking news – headlines like "Pope Francis Shocks World, Endorses Donald Trump for President, Releases Statement", which got almost a million views on Facebook last year – but also fake brand news, the latest Blue Apron debacle being a perfect example. As a result of this, Hannah pointed out, brands are essentially having to become publishers, putting out their own, controlled, content to address any less than savory, or less than accurate, portrayals of themselves that may be out there. Continuing on the theme of the night, Jessica Taylor, Director of Communications for GE Digital, spoke to not only the consistency, clarity and authenticity that readers craved from these branded channels, but also the "inside view".
Readers now want to be invited into the conversation, rather than just reading about it. It is, as Connie said, a push and pull between fact and opinion. Jessica shared how one of the bigger challenges for brands in this regard is having to navigate the brave new territory of taking a tactful stand on things as divisive as political issues. As readers and consumers become more used to being able to broadcast their own thoughts and opinions, and even as they are demanding more accurate reporting, they've also come to expect "realness" and engagement from both brands and media entities.
While our panelists and moderator, David Kirkpatrick of Techonomy, went back and forth on issues of whether social media or traditional press is the most influential, a few things were very clear and agreed on. The landscape is changing. Not only are there more platforms to get news from, there are more voices in the mix. Everyone wants to have a say and wants to know what's going on 'behind the scenes', no longer content to simply believe everything they read, because there is a mind-blowing amount of information out there. At the same time, however, readers are interested in the human element: how did reporting on a war zone personally affect the journalist? Where does a brand's leadership team come down on embattled social issues? Our job as communicators is to help our clients find the balance for their own content and to help provide journalists with the honest, engaging material their readers crave. It was clear that today's top influencers, regardless of their medium, are those who can pull back the curtain and still pull off the show.
Brigit Carlson is a senior account executive in Grayling's San Francisco team. A summary of Grayling's Inside Influence research may be downloaded below. Join the debate on Twitter, using #InsideInfluence.
---
Download PDF
Grayling Team