​How The Washington Post Approaches Visual Storytelling: A Q&A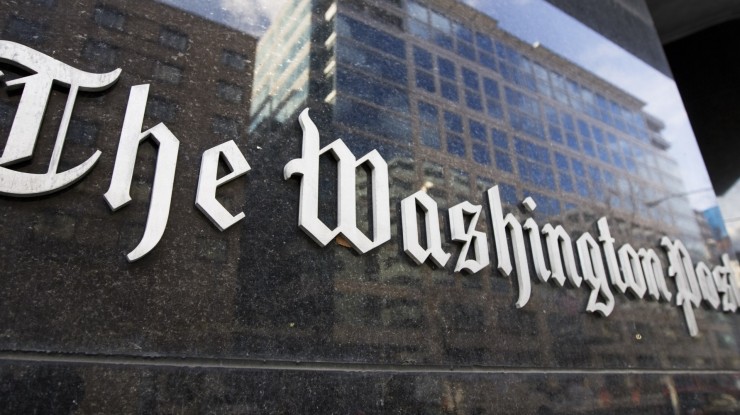 7th March 2017
---
Grayling San Francisco managing director, Alan Dunton interviews The Washington Post's design director on the art of visual storytelling
This blog is intended to capture 'free thinking' from Grayling colleagues worldwide, but I think there are very few scenarios in which my opinion would be all that interesting to read. To that end, I connected with a much wiser person than myself to chip away at the new normal we face in the art of storytelling: words alone no longer have the impact they once had. Visual storytelling isn't a nice to have, it's a requirement. This is absolutely the case for news organizations, which means it must be a requirement for those of us trying to influence news organizations.
For greater insight into this topic, I reached out to my friend, Greg Manifold. Greg and I went to school together, and though I like to tell people he reported to me during our stint on the school paper, truth be told I was usually just trying to keep up with him; I consider him to be one of the best sources of knowledge on the subject of editorial design. His body of work speaks for itself.
Presently, Greg is the Design Director for The Washington Post, where he leads a team responsible for the presentation of the newsroom's most ambitious stories across the newspaper, digital and social platforms. The team prides itself on seeking out bold visual presentation while collaborating with reporters, editors, photographers and graphic artists. Greg is one of the most humble guys I know, but I can assure you, his eye is sharp, his perspective is forged by immense experience, and his shelf is full of awards and accolades.
Greg let me know that at The Post, there's no separation between editorial and design. The entire team works on editorial, with his team focusing on the design aspect of the editorial process while others toil away with words. Both camps, if you will, are intertwined, with the visuals groups no longer bolting on to the end of the process.
What this means in practice, is that their designers and visual journalists (photographers, graphics team, illustrators) are in on projects and the process from the beginning. What this means for us PR hacks is that we must think harder about the visual incarnation of our messages and pitches from the onset, not as a last-minute bolt-on.
But I digress … let's get more insight from Greg on what makes design special at The Post:
Q: What is The Post's mission when it comes to design?
A: Our editor Marty Baron (of Spotlight fame) keeps it pretty simple for us. "Be Bold." Sounds corny, but it's pretty brilliant. The act of Being Bold means constantly finding new ways to surprise and engage readers. Therefore, we're constantly searching for new ideas or approaches. As a result, we've progressively gotten better by building on the foundation of past successes. Marty also let us define what bold meant to us. He didn't try to dictate how or what to get to, and left us the room to experiment, succeed and even fail.
Overall, we have to communicate well to readers. We have to use all of our tools to help readers better understand information across the newspaper, website, apps and social media.
We have a unique team structure that goes against the industry standard (New York Times, Boston Globe, Wall Street Journal and many others). While they've separated out their print and digital design operations, we've moved to make them one and the same. We've taught traditional print designers how to design for digital. As a result, one designer can tell a story across up to eight platforms for us.
Q: What inspires the team?
A: I think we're inspired by the opportunity to work with great stories, photographs and graphics in order to better inform readers. There's a rush of knowing a big story/package is coming and that it may change the national conversation on a topic. We are also inspired by looking at our competitors and by the work of illustrators we hire to work on projects.
Q: How do you work with the editorial side to ensure the 'right' visual element is delivered?
A: We must collaborate well, otherwise we wouldn't be doing a very good job. We collaborate with more groups than any department in the newsroom. From the reporters and editors about the story, to the social media team about promotion, to photo editors on selecting the right photos. Getting the right visual is subjective. What makes sense to you may not make sense to your neighbor. That's where editing comes in. As managers, we have to make sure that clarity isn't lost in the delivery.
Q: Does the visual side of the equation dictate the editorial?
A: The goal of having everyone involved and contributing is to make things better. I think that happens the bulk of times at The Post. I've been asked by Pulitzer-winning authors about what I think of their story and what I would consider changing. And, had them adjust their story because of it. At a certain point, we're all just journalists.
Q: How do you know you're getting it right?
A: I think we've succeeded when the readers tell us. Reading the comments of a story, you can tell pretty quickly, digitally. Also, it's often a gut instinct on the best way to tell stories. I have to trust my gut and get designers to trust their gut. At the end of the day, a reader shouldn't be focused on the design. They should be engaged with the story, illustrations and photos. If they're focusing on the design, we've probably done something wrong.
If you've made it this far, I hope you come away with a deeper appreciation for how this world-class news organization approaches visual storytelling. I encourage you to visit the paper's site, download its app – or grab a hard copy – to see how Greg's vision materializes daily, and to be inspired to suggest bolder creative elements for your campaigns.
---
Grayling Team