Czech energy governance needs political backing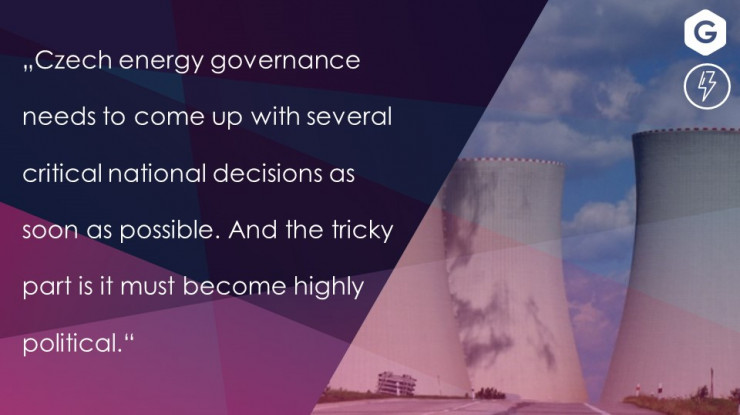 4th March 2019
---
February 2019, a busy month in the Czech energy sector, was framed by IEA Chief Energy Modeller Laura Cozzi's presentation of the World Energy Outlook. In her presentation, Ms Cozzi noted that energy investments around the world are almost exclusively made based on government policies and decisions. This is also true for the Czech Republic, while there's also a strong Brussels angle to consider.
The Czech energy sector is indicating that transition in line with the EU's "cleaner energy" push could go relatively smoothly. CO2 emissions are gradually decreasing and the penetration of renewable energy sources, despite being often criticised as not ambitious enough, has already outstripped the binding national target for 2020.
Two major areas where the Czech government is skating on a thin ice are its continuous postponements of a decision on the future of Czech nuclear power and its lack of energy saving incentives.
Jaroslav Míl, the former CEO of ČEZ, is sitting in the energy "hot seat", having been appointed the Czech nuclear energy envoy. Mr Míl swiftly announced that the whole decision-making process would need time and that there was no point in rushing it. Even though potential suppliers have heard the first concrete solutions for future Czech nuclear facilities, with the government planning to enter into a contract with ČEZ, the much anticipated event in Parliament seems to be raising more questions than answers. Especially when it comes to the status of the Czech government's negotiations with the European Commission on State aid and the settlement with ČEZ's minority shareholders.
Energy savings are a whole different story. The Czech government has committed to deliver on major energy efficiency efforts in order to significantly decrease the energy consumption both in industry and among households. Inadequate energy efficiency efforts on the Czech side have been raising many eyebrows in Brussels for years, but the Commission seems to have had enough and filed an official motion against the Member State in court. This is the first in this area, but certainly not the last.
Czech energy governance needs to come up with several critical national decisions as soon as possible. And the tricky part is it must become highly political.
---
Jan Sádlo