Celebrating 25 years of Grayling fulfilling 25 wishes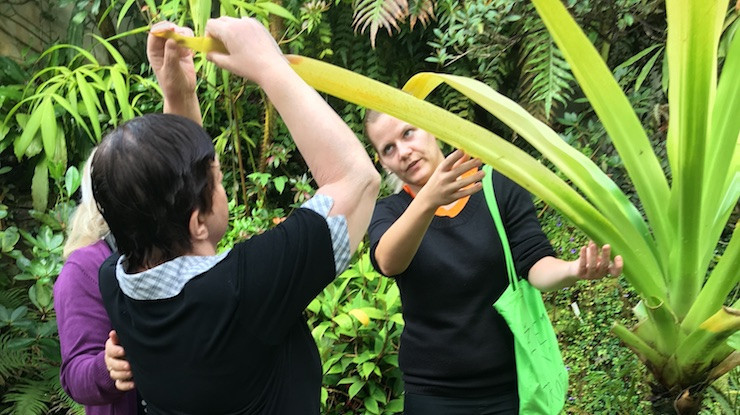 31st October 2018
---
This year our agency celebrates its 25th anniversary in the Czech market and have decided that instead of throwing a big bash that leads only to a hangover, we wish to commemorate it differently. With communication as our daily bread, we decided to fulfil the wishes of 25 people affected with deaf-blindness, one for every year we were celebrating. For these people, communication and access to information is, due to their complicated disability, an everyday challenge. On that basis, we teamed up with an organization called LORM which specializes in the field of special care for the deaf-blind and launched the whole celebration on Friday 12 October.
Our first client was Marie Macková, who lives in the nursing home Domov u studánky, not far away from the town Lanškroun. Ms. Macková is 69 years old and her wish was to visit a botanical garden, for she loves plants and likes to smell flowers.
Together with my colleague Olga (Veselá), we set off from Prague at 6 a.m. and after a two-hour journey, arrived in the 200 kilometres distant village Anenská Studánka – a picturesque area in the middle of the countryside. With little time to admire the view, we scooped Ms. Macková up and quickly hit the road back to Prague. In the Prague Botanical Garden we began our tour in the exhibition hall in the Ornamental Garden, where the 22nd annual special exhibition for all senses takes place. The exhibition is very unique as the visitors can not only look at the displayed objects, but also experience them beyond sight, with all their senses. After that, we moved to the Fata Morgana Glasshouse, which we walked through with a pleasant guide.
Marie is fully deaf-blind and relies on her interpreter, caretaker Renata Drdúlová, who communicates with Ms. Macková through dactylography. This is a communication system that consist of using fingers to represent letters on the palm of a recipient. In fact, fifteen years ago Ms. Macková was capable of both spoken and written word.

We lunched together in Troja and then went back to Anenská Studánka, which we reached at sunset. We hope that Ms. Macková enjoyed the day as much as we did. Meeting her and her kind-hearted caretaker was truly a special experience for us. Moreover, we were impressed by our visit of the nursing home Domov u studánky. It offers help to clients over 18 years old who are mentally disabled or have any other physical or sensory impairment.
Despite spending over 10 hours in a car and driving about 1000 kilometres, we are already looking forward to seeing another wish fulfilled, this time coming from the town of Chomutov. But let us leave that for next time…
Special thanks go to the staff at Prague Botanical Garden, who kindly allowed us a free entry together with the company of amazing guides. Without them we would not have been able to deliver such a remarkable experience to Ms. Macková.
Written by Noah Zyla, Senior PR Consultant, Grayling Czech Republic
---
Grayling Team