Is scalability the answer to the lack of housing?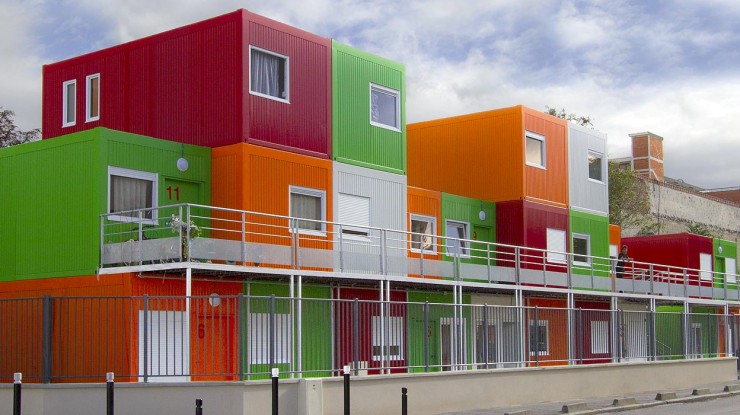 28th June 2018
---
By Marie-France Bergamo, Corporate Senior Consultant / Grayling France
By 2050, 75% of people will live in "world-cities", compared to 50% today. In parallel, according to research on housing conditions in France in 2017 issued by Insee (the French Statistics and Research Institute), the size of households has decreased, whereas their number has increased: more than 35% of households only numbers one person due to an ageing population and new ways of living (more and more separations, fewer large families…). Which obviously has an impact on housing, due to its social and political importance.
Today in France we can see a major housing crisis, with 2 faces:
- On the one hand, more and more people live in precarious situations and are looking each day for emergency accommodation (or not). The figures speak for themselves: 4 million people are badly housed, 15 million are vulnerable, there is an increasing number of homeless people (+ 50% between 2001 and 2012) in the cities with more than 20,000 inhabitants. To which one should add the massive and regular flow of migrants (1.5 for 1,000 inhabitants).
Amongst the suggested solutions:
- In "Grand-Paris" there are currently 114,000 housing places in its 131 cities, including 3,700 in Paris. Which is of course not enough, despite the €2 billion annual investment made by the Government. In addition, the "Logement d'abord" (Housing First) plan, which will be deployed next autumn in 24 French cities, should allow this plague to be curbed. It's the French version of the experimental program called Housing First that was successfully launched in Seattle in the US, initially aiming to allow people who are excluded or in difficulties to get access to housing. This has unfortunately been very recently curbed after Amazon asked for the abolishment of the tax that favors homeless people in Seattle.
- There has been an emergence of new associative and supportive structures that are "mobile and removable", such as the Site des Grands Voisins, Yes We Camp, le Bastion de Bercy or l'atelier Rita (awarded in 2017), supported by some pioneers in the field of help for excluded people, such as the Aurore charity, as well as some architects who have decided to make sure these places of accommodation can be more "livable" and long-term ones… The places in which the investments have been made are most of the time wastelands, industrial sites or public infrastructures pending redevelopment.
- On the other hand, there are also people whose residential journey seems a priori to be facilitated thanks to financial support in the field of housing, loans, guarantees… But this does not prevent the people benefiting from this support from experiencing material or financial troubles during their lives: workers, students, senior people…
As if the wish was to hide the intricacy of this chronical crisis, for almost 2 years Paris has been experimenting with a huge number of architectural initiatives to build tomorrow's city. As an example, Paris City Hall has launched a series of urban design competitions: Reinvent Paris, Reinvent the Seine, Reinvent the Parisian subsurface, the launch of Faire, an urban design accelerator… Those projects consist of programs dealing with the transformation of offices, barracks, train stations, factories, farms, churches, to turn them into places to live and host fun as well as unusual and surprising projects respecting the sustainable city. There are also several housing patterns: flatshares involving several generations, collaborative or self-managed (wiki mode), housing exchanges, scalable accommodation…
However, there were several national housing policies that were technically complicated, implemented by all successive Governments wishing to innovate in this field without visible results until the major housing reform was started in 2017 by President Macron's Government that has generated lots of comments: the ELAN housing bill and its 3,000 amendments are still being studied by the National Assembly and should be enacted in September this year. "Build more, better and in a less expensive way": here is the objective clearly announced by the Ministry of Territories' Cohesion. Regarding housing in the Grand-Paris area - almost 7 m. inhabitants - the Grand-Paris Metropolis will be in charge of the housing's financing and competences as of January 1st 2019. This major stake will lead to the implementation of a metropolitan housing program.
Will the migrant crisis eventually allow politicians to be aware of the urgent need to find global, long-lasting and dignified housing solutions?
Fewer laws and more pragmatism, more will and more commitment led by more global and readable communication, targeting more people directly: this might be one of the solutions for the future.
Grayling France has strong expertise in the field of housing and real estate. Our Corporate team has been the integrated communications agency of La FNAIM du Grand Paris, Groupe Logement Français and Action Logement and also has a large number of other references in this field.
For more information contact Marie-France Bergamo, Corporate Senior Consultant, or Bertrand Paul, Head of Corporate.
---
Grayling Team