A sip of Unicorn success – The Starbucks story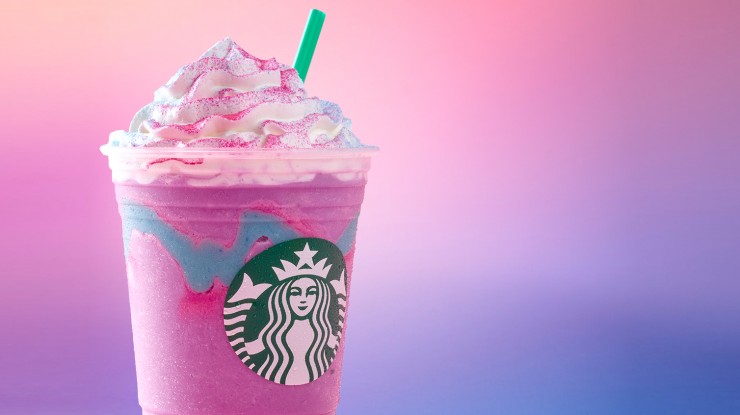 24th July 2017
---
Chloe Baker, Account Executive in our Grayling Birmingham team, shares her thoughts on what made Starbucks' Unicorn Frappucino such a success.
We often say 'let's keep it simple' or 'bring it back to basics' as there's so much value in ideas that are well thought out but don't cross over into complex territory. Brands are constantly looking at ways to reinvent themselves, whether it's through a new logo, a savvy campaign or a finely tuned PR stunt.
A few weeks ago, you may have noticed a multi-coloured drink floating around the world of social media. This marked the launch of Starbucks' infamous Unicorn Frappuccino.
The global coffee brand found a way of reinventing the much loved Frappuccino – and dare I say it – a brilliant, yet simple way to attract a whole new wave of coffee lovers. Unicorns are bang on trend right now and these multi-coloured, eye-catching Frappuccino's with more sugar than my Grandma's Lemon Drizzle have definitely caught our attention. What could be more intriguing? (Not to mention delicious!) Consumers were in awe of this bedazzling drink – and so the domino effect began.
So what made the Unicorn frap such a hit? We look into the different elements that made it a resounding success.
On-trend?
Everywhere we look, people are swearing their allegiance to the unicorn. A whole new culture has been born in several different formations; whether that be ornaments, cakes, inflatables, beverages or even hairstyles! Staying in tune with these trends will help drive a campaign and make it a success. It's so important to assess the current landscape of trends and see what's popular. This can involve extensive research from across a variety of platforms such as surveys, national data and social media. This will then give you a good picture essentially of what's hot and, what's not!
Happy hashtagging
To date, #unicornfrappuccino has generated over 158,000 tags on Instagram. These posts mainly consist of personalised posts who have either purchased the drink and joined the bandwagon or have attempted to get their hands on the drink but have been faced with the sold out notice. The hashtag has also prompted other brands and bloggers to take advantage of its impact to create their own unicorn-inspired drink, for example, creating a healthier version of the Frappuccino or a 'make your own at home' recipe. Moral of the story? Never underestimate the power of the hashtag.
A pastel paradise…
The pastel-like colour scheme created the perfect Instagram-worthy picture, tapping into a fantasy world of magic, fairy-dust and 'all things nice'. The unicorn trend has surpassed into all sorts of foods, including pizzas, cakes, spreads and even burritos. A whole new level of food has been born. A glittery, mystical paradise for foodies.
Starbucks' flair for tapping into a trend, interpreting it innovatively and maximising its presence is what keeps them continuously at the forefront of their business. Whilst their bold choice of beverage in this instance can certainly be perceived as ambitious, their thorough appreciation of the power of social media ensured that not only were they a topic of popular conversation, but that there was widespread documentation of their innovation. In a business that is over spilling with competition, Starbucks re-iterated their dominance as the creative leaders in coffee.
---
Chloe Baker