Paris' Place de la République: Is Nuit Debout the new Occupy Wall Street?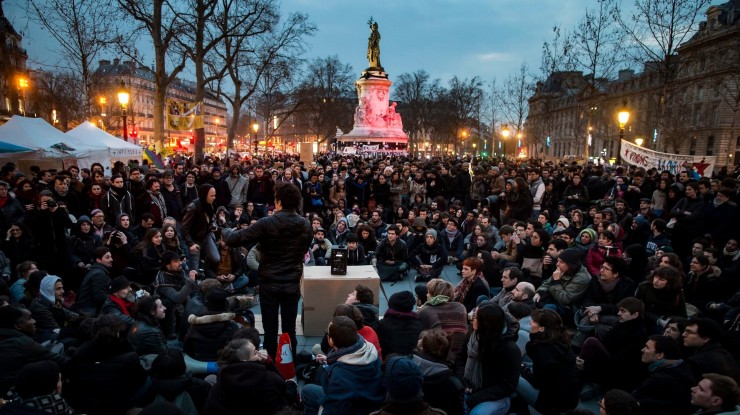 21st April 2016
---
Since March 31, thousands of people have been gathering every evening at the 'Place de la République' in Paris to share their disillusionment with institutional politics...

A grassroots movement that recalls Barcelona's "Indignants" or New York's Occupy Wall Street
Assembled under the name "Nuit Debout" - which loosely means "rise up at night" - the disparate crowd of students, activists, citizens, and onlookers was initially protesting against the labour rights reform package presented by the French right-wing government. It has now expanded its manifesto to include the political and economic system as a whole. Trade unionists from Renault explain the movement has morphed into "a popular democratic mobilization of workers exceeding the union framework." Many observers like Albert Ogien, sociologist director of research at the National Center for Scientific Research, compared it with the Spanish "Indignants" at the Puerta del Sol in Madrid or with those in New York (Occupy Wall Street), indicating that protesters are "people who, for years now, participate in think tanks, especially to the left of the left".

The anti-establishment, anti-capitalism phenomenon gaining momentum
A grassroots movement without a leader, Nuit Debout does not have a clear call to action. French politicians are however taking the phenomenon seriously, reading it as a general and fundamental questioning of today's democracy, underpinned by a suspicion of public and financial institutions. Nuit debout has started to spread to Paris suburbs and other French cities such as Toulouse, Lyon, and Nantes, and even over the border to Brussels. In the meantime, the French government and Paris authorities are being cautious about how to police the movement. François Fillon, former French Prime Minister, declared that the movement is incompatible with the State of Emergency which is still ongoing in France since the November attacks.
---
Grayling Team