Medium Message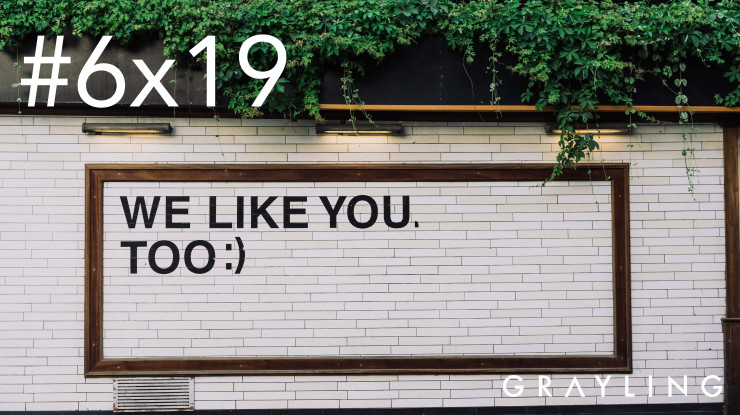 22nd November 2018
---
Grayling UK's Head of Consumer, Kat McGettigan looks into what happens when brands capitalise on the unique properties of a material channel or platform, in the latest post on our #6x19 trends forecast.
One thing we expect to see, feel, smell and hear far more of in 2019, is a greater appreciation of context, both by marketers and their audiences, culminating in a more interesting and engaging coupling of message and medium.
Marketers are beginning to really capitalise on the unique properties of a material, channel or platform to integrate vehicle and message in a novel and singular way – and control the context – for greater meaning, impact and trust.
Research suggests that the average consumer is exposed to up to 10,000 brand messages a day meaning attention is now new currency. To navigate this resulting space race brands turn to hyper focused strategy which brings together contextualises their message in a way that engages the consumer and ultimately sticks first and fore in their minds.
Show and tell
In advertising in particular, we are already seeing proof points being baked into ads themselves.
Take wood treatment company SiooX, thanks to whom you can visit Sweden to see the world's most boring billboard. No rush on this though, it'll be around easily for at least the next 12 years. Made with boards from the deck of the CEO of SiooX, the billboard is intended to demonstrate just how reliable and durable their product is. The message of the billboard, a rather tradition form of advertising in and of itself, is simple, straightforward, directly connects medium with message and therefore, is much more likely to sink in and stay. Maybe even 12 years memorable…
Consumers are now also savvier than ever, and with that, comes the increasingly challenging need to convince them of a product or service, and even more so to develop real brand loyalty. In fact, 58% of UK consumers need real world proof for them to believe a marketing message from a brand. Contextualising the narrative of your campaign means knowing your audience and delivering your message in a creative and fun way that is sure to make its mark.
QuickBooks, as an example, is a software that is perfect for freelancers and small businesses to do their accounting and taxes. They recognised that the music industry is full of those people, so they backed a rising singer/songwriter. By doing this they are also showcasing how they are backing the producers, the recording engineers, photographers, make-up artists and everyone else.
Experience this
Nothing is bound to drive a brand's message home more than enabling people to truly experience a product, which is why 2019 will see an increase in innovative platform-specific campaigns to help raise awareness and ultimately change behaviour. The surest way for a brand to marry message to medium is in providing an experiential learning for consumers. And some organisations are already investing more spend, with 1 in 3 CMOs expected to spend 21-50% of their 2018 budgets on experiential advertising.
Although this may be a field which is tied most naturally to consumer brands, some are surprised to see stellar examples are coming from the NGO sector.
One serious issue in which we see this in use, is that of young people who go missing. In Australia, the Queensland Police found an innovative and completely appropriate means of raising awareness of these young missing persons – using Snapchat. The Disappearing Person Alerts features disappearing messages to help find missing persons. A somewhat often overlooked message featured on a platform that people, especially young people, find particularly engaging, quick and easy to use. The idea to use disappearing messages to find disappearing people … it's a natural fit. And people engage with that.
It's not just NGOs experimenting here - the British broadcaster Channel 4 really pushes the boundaries of what's possible, usually in cause-related ways. For National Eye Health Week, they teamed up with one of the UK's leading sight-loss charity to raise awareness of different conditions, like macular degeneration, whereby viewers could see ads disappearing before their eyes, experiencing what macular degeneration would be like.
Story Material
If we are talking about brands making creative use of the mediums they use, how about those that actually create real, original artefacts. We're talking about campaigns which are tactfully tactile as more marketers are becoming 'creators' in truly original and own-able ways.
Anyone who watched the BBC coverage of the World Cup this summer will have seen their amazing animated tapestry. But that wasn't created using just digital animation. They actually made a tapestry – which is no doubt hanging somewhere in the BBC…
LL Bean is a retail brand in the US that specialises in outdoor clothing and equipment. Brands like Patagonia and REI are doing some really innovative stuff, so LL Bean fought back with a print ad in the New York Times, whose message is only fully revealed in daylight, when exposed to UV rays. Truly encouraging the masses to 'get outside'…
Finally, there's this: Colin Kaepernick kneels to make a statement about police violence against people of colour. This is the cause that gave rise to the Black Lives Matter movement. Kaepernick is accused of being unpatriotic, but what could be more patriotic than draping yourself in the flag? Well in this case, the flag was made by Black Lives Matter. And it's made of Kevlar. It is literally bulletproof. A powerful artefact that takes the organisation's "Bulletproof" message to a whole new level.
For more information about Grayling's #6x19 trends and how they may be applied to enhance your future communications, please contact our global head of strategic services, Jon Meakin.
---
Grayling Team