AGRF 2018: Agriculture has a PR problem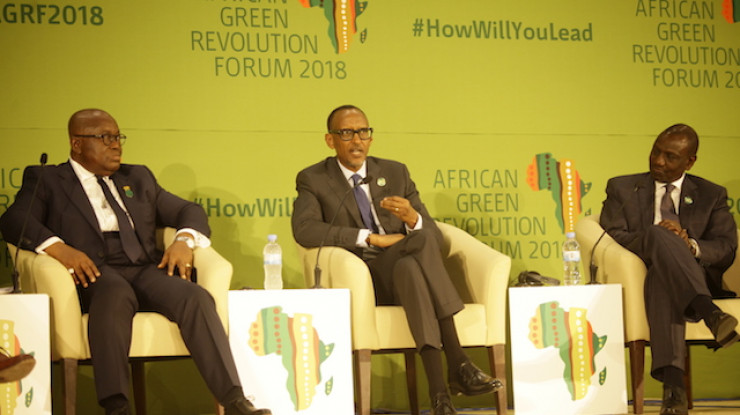 13th September 2018
---
"Africa's innovators should be embarrassed. We should not continue to have a hoe as the symbol of our farming efforts."
That was the message that Strive Masiyiwa, Chairman of Econet and renowned Zimbabwean entrepreneur, had for the 2,800 delegates at this year's African Green Revolution Forum (AGRF) held in Kigali, Rwanda from 5-8 September.
In short, agriculture in Africa has a PR problem.
As industry leaders, Heads of State, 'agri-preneurs', farmers, and agriculture experts gathered for the 8th annual AGRF, there was an overwhelming consensus that the image portrayed of the agricultural industry in Africa is a relic of days gone by.
I was fortunate enough to attend AGRF 2018, along with my Grayling colleagues, as we supported the communication effort for this year's Forum on behalf of our client, AGRA. As PR professionals, it became increasingly apparent throughout the four-day event that agriculture needs a 'rebrand' of sorts. As we heard from more and more experts, there were unanimous calls for a more nuanced portrayal of the industry in order to capture the hearts and minds of Africa's most valuable resource – its youth.
Despite being home to the youngest population on the planet, the continent faces a significant challenge in attracting youth to the agricultural industry. As Mr. Masiyiwa noted, "We live in a continent where the average age is 19 but the average age of the farmer is 60." Unfortunately, this outdated representation of the average African farmer is a pervasive image that has entrenched itself in the minds of young people.
To that end, he has a message for the industry: re-imagine rural. From curriculum materials, to employment fairs, to marketing brochures and advertisements, to storytelling and testimonials – agriculture and farming must be repositioned and reimagined as a viable, profitable, and fulfilling career choice for Africa's youth.
It was confirmation of what any communications professional is acutely aware of – perceptions matter. The stereotype of a career in agriculture is all-too-often misrepresented by an image of that agrarian, elderly farmer – and that image has taken hold.
While farming is an important part of the agribusiness value chain, it is only one piece of a bigger puzzle. In the dozens of sessions at this year's AGRF, expert speakers emphasised the importance of representing the entire farm-to-table supply chain, not just the individual farmer. Agriculture career opportunities span a range of roles and expertise, from production to post-harvest handling, to industrial processing and farming technologies, to name a few.
In order to harness the value of this opportunity, we need to move beyond the image of the farmer holding the hoe, and instead better represent the breadth and scale of the industry.
The good news is, for those attending this year's AGRF, it was clear that Africa's agricultural leaders plan to do just that – the status quo is simply not a viable option any longer.
By 2055, the continent's youth population is expected to be more than double the 2015 total of 226 million. This demographic potential, combined with the fact that 60 percent of the world's uncultivated arable land is in Africa, presents an immense opportunity for change.
Evidence of this change was no more apparent than in the 26 'agri-preneurs' at this year's Pitch Agrihack competition, held at AGRF. Organised by the Technical Centre for Agricultural and Rural Cooperation (CTA), this talent initiative brings together young innovators from African, Caribbean and Pacific (ACP) countries to solve agriculture's most pressing challenges.
The start-up projects were ripe with innovative spirit and testament to the types of stories that need to be told in this industry in order to attract more talent. The profiles of these aspiring leaders could not have been further from that of the farmer with the hoe – they were financial specialists, IT experts, environmental activists, legal advisors, and change-makers. They truly represented the entire agriculture value chain, forming a microcosm of what the future will look like for the broader industry and its disruptive potential for the continent.
As His Excellency, Paul Kagame, President of Rwanda, said, "We require a rapid shift in the mindset of our young people towards agriculture as a career choice. With the knowledge and technology available, there has never been a better time for young Africans to get involved in agriculture."
If Africa can continue to change minds, reframe perceptions and reimagine agriculture, that shift will be well underway.
---
Lauren Ramey