How we got to know ourselves by fulfilling wishes as part of the #25years#25wishes campaign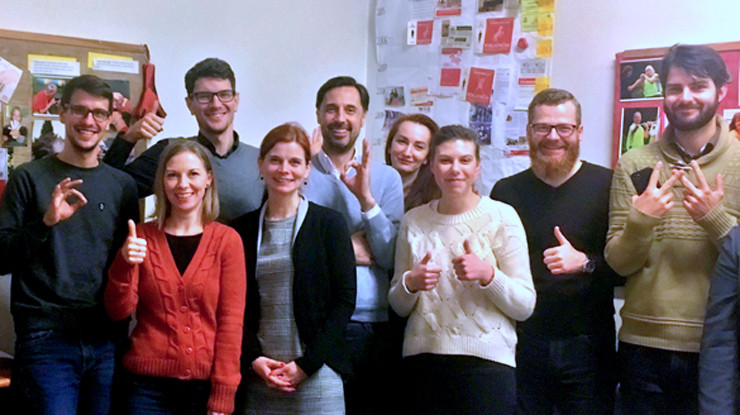 3rd April 2019
---
We decided to celebrate the anniversary of Grayling's presence in the Czech Republic by fulfilling the wishes of members of LORM, a charity dedicated to supporting deaf-blind people. To date, we have fulfilled 13 wishes in total.
During the autumn and winter, we concentrated on "indoor" activities. The wishes were quite varied, but here are a few examples:
One of our team had lunch with Eva on her 82nd birthday. Her wish was to taste the French specialty Bouillabaisse soup.
Jana and Tereza from the Public Affairs team arranged a tango class for Lenka, who has lost nearly all of her eyesight and is completely deaf. Her guide dog, Esi, stared in disbelief at her dancing!
We arranged a meeting between Pavla and the legendary Czech actress Helga Čočková, who narrates audiobooks for the blind. It was the Pavla's biggest wish to meet Mrs. Čočková in person because, as a result of her blindness, audiobooks are the only way she can "read".
Last but not least, Dana's wish was fulfilled by attending the famous TV show "Dancing with the Stars". Dana was a passionate dancer in her youth, but now suffers from Usher's syndrome, which can cause, in addition to blindness, a loss of balance. "Feeling the roar of music under my feet and the clatter of the dancers' shoes was my big wish. I really enjoyed dancing in my youth, and thanks to Grayling, I could be close again to my beloved hobby", she told us in a letter of thanks afterwards.
The rest of the wishes will be fulfilled this spring. We will take LORM's members back to places from their childhood, visit castles, gardens and funfairs, and organise more meetings with singers, writers and other professionals who help deaf-blind people stay in touch with the world around them.
Spending time together, improving ourselves and sharing experiences
What's more, thanks to our anniversary project with LORM, Grayling's Public Affairs team spotted the government's intention to amend one of the laws on communication tools for the deaf-blind. We immediately offered free PA services to LORM. The cooperation includes legislative monitoring and stakeholder mapping, and we expect direct stakeholder engagement in due course.
This anniversary project, which has been ongoing for more than half a year, has evolved into a form of team-building for our office. In addition to fulfilling individual wishes, our team has also attended several workshops connected to LORM. An introductory workshop taught us how to guide deaf and blind people. We also attended a training in signing systems, tried typing in Braille, and put together a big team of runners which has already registered for several charity runs to raise money for LORM.

By Noah Zyla, Senior Consultant and coordinator of the #25years#25wishes campaign.
---
Grayling Team