The five biggest trends from re:publica 17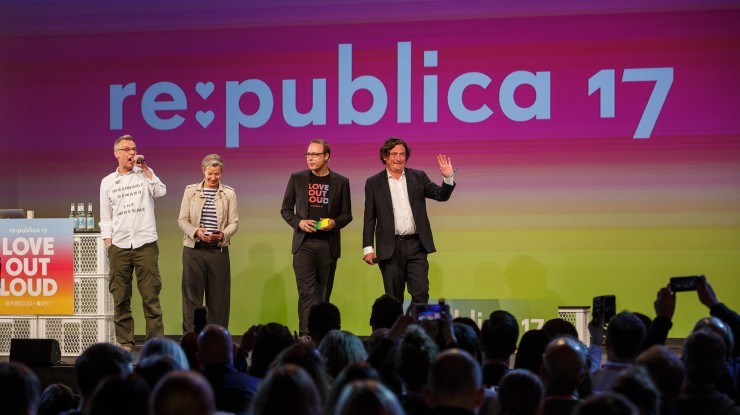 15th May 2017
---
Michelle van der Veen, Account Manager Digital & Content at Grayling Germany in Frankfurt, has summarized the five biggest trends from this year's re:publica fair and media convention in Berlin.
The re:publica is a conference for all things concerned with Web 2.0, social media and blogs. The eleventh edition of the re:publica (#rp17) attracted 9,000 participants from 71 countries. Over 1,000 speakers on 20 stages presented 500 hours of program and 47 percent of the speakers were female.
At the same time as the re:publica the annual Media Convention (#MCB17) also takes place in Berlin. The Media Convention Berlin is a media congress organized by the Medienboard Berlin-Brandenburg and the Medienanstalt Berlin-Brandenburg, which took place for the fourth time in cooperation with the re:publica. It is focused on current issues of media and network policy, market trends and developments in the digital media society.
The programs of the two events complemented each other excellently. Some of the talks can now be viewed on the re:publicas Youtube channel. After listening to many talks, panel discussions and visiting workshops, we identified five key trends which dominated this year's re:publica.

Digital Storytelling
For many media professionals, storytelling is part of the daily business. It is no secret, that people will rather listen to a good story than mere brand messages. "Digital storytelling" was naturally a key topic in many sessions. How do you raise above the digital noise in the first place, and in what way must a brand's stories be prepared in order to be perceived by a critical mass? Here are some useful online tools to enhance your story telling with visual features:
Even if you know nothing about editing and filming, the Wochit tool lets you create great short clips for social media. With the App Fyuse, you can make your own 3D images, Genially lets you design interactive infographics in a short time and Storymap allows you to make your very own interactive maps. For those who have their own podcasts, Tapewrite is extremely useful: This easy-to-use tool allows you to add your own pictures and text as well as individual chapters within the audio track.
Create good and visually appealing content is becoming a lot easier for the individual user (even without technical know-how). However, the offer of great easy to use programs and apps are rising, it is important not to be sidetracked and stay true to the communication strategy, suitable to your brand and company. Only with a well-developed strategy your content will be convincing and might even go viral.

Virtual Reality
Virtual Reality was a major topic at the re:publica. From Amorelie and Google Lab to ZDF, many exhibitors had their latest VR innovations at hand and a lot of the sessions dealt with the subject.
A wide range of applications showcased the current technological possibilities virtual reality has to offer. WDR, for example, allowed users to discover the Cologne Cathedral in a whole new way and invites you to an extraordinary journey through time. ZDF presented the first news contributions with the VR technology and explored narrative forms and possibilities of the technology. For many users, virtual reality is still a rather new trend, not yet arrived in most people's living rooms. However, for companies, it offers a wide range of opportunities and creative new communication solutions.

AI – Artificial Intelligence
The subject of artificial intelligence and how the current state of technological development and its applications is, is a central issue for the communication industry. Experts discussed the potential benefits artificial intelligence offers, but also the risks it poses in our daily lives. If it depends on artificial self-learning systems whether or not people can get health insurance or a bank credit, or a plane ticket, then the data base should be more diverse and, above all, transparent. Some speakers therefore demanded an ethics for algorithms and big-data applications.
Various systems and applications were presented by the conference's sponsor IBM during the three days. The system i2 EIA (Enterprise Insight Analysis) scans unstructured data sets from various public sources to detect terrorist suspects among refugees. The system creates a risk value set similar to that of insurance companies. A similar application is already used by various airlines to analyze their passengers.
With Watson, IBM has been offering companies the opportunity to analyze their own data and customers' data, as well as public sources, and to develop creative solutions with them. At re:publica, IBMs focus was placed on HR departments. For this purpose, Watson can, for example, find suitable applicants.

Blockchain
In an increasingly digitalized world, cyber security has become a central issue. Numerous lectures on blockchain technology, highlighted the future of data security.
Blockchains were originally devised for the virtual currency Bitcoin, which is the first concrete blockchain application. As the blockchain technology provides a completely decentralized, transparent, encrypted network of subscribers that cannot be corrupted, it offers great potential to satisfy the need for more security and to counteract web companies. On this year 's re:publica, blockcahin applications for energy supply organizations, public authorities or the protection of the environment were presented. Since the topic is extremely complex, there will soon be a #GraylingInsight on this topic.
eSports
eSports is the abbreviation for electronic sport and refers to the competitive playing of video games. Whether it is a computer or console, a racing or an action game, eSports is every professional competition against other gamers. In Germany, gamers can win large sums of prize money at tournaments for the most popular games like "Counter-Strike - Global Offensive" and "League of Legends". The eSports World Championship (ESWC) take place in stadiums around the globe with more than 3 million spectators watching on site, or via the live stream. At re:publica, a lively panel discussion took place with industry experts, who quickly showed the audience that eSports has great potential for companies to reach new target groups. So it is not surprising that major corporations such as Red Bull and Coca-Cola are already active as sponsors.
Image: The re:publica founders Johnny Haeusler (l-r), Tanja Haeusler, Markus Beckedahl and Andreas Gebhard at the opening of re:publica (#rp17) in Berlin on stage. Photo: re:publica/Jan Zappner (CC BY-SA 2.0)
---
Grayling Team