Using Tailored Messaging to Create Magic Moments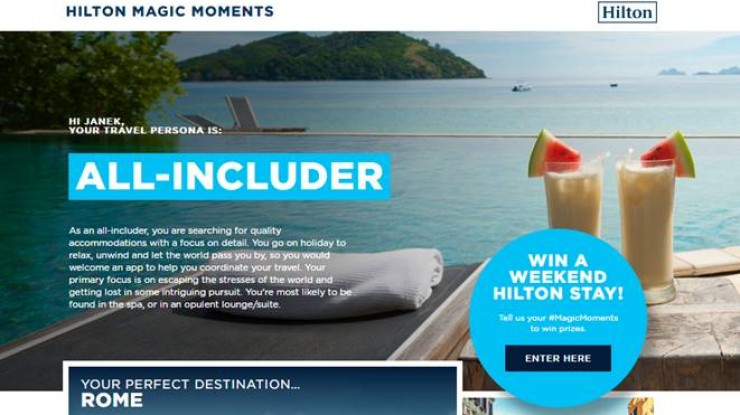 18th August 2016
---
Global Head of Digital Marketing, Jan Mikulin provides a behind-the-scenes look into the development, deployment and success of an award-winning app
Two years ago, I was in a meeting with one of our major international clients, Hilton. In that meeting I shared a vision of how they could not only maintain, but enhance their global image as a superior service provider, by creating personalized content and experiences across their entire portfolio.
Last week saw the most recent iteration of a long-running series of activities that have been paced to test, learn and develop the technology and the content types required to ensure that this can be delivered at scale.
We're still a little way from getting to our vision of a truly personalized experience for every Hilton customer, at whichever touch point they connect, at whichever part of the consumer lifecycle they are, but we are making great strides in the right direction.
Thanks to the continued support of Hilton, we have been able to test, test some more and test again the concept and technology of message tailoring. We have now proven that message tailoring not only works, but delivers substantially increased efficiencies and ROI.
So what do we mean by message tailoring, in this context?
At the heart of the activity is a predictive engine, fuelled by an API developed by the University of Cambridge Psychometric Centre, which gives us access to more than six million people's anonymized psychometric profiles. This gives us the ability to predict with a great degree of accuracy what a person's psychological profile is, based on their likes.
We have used this technology and additional research to determine the audience profile of Hilton HHonors members and fans; using this detail to tailor messages to specific personality types, building greater connections and driving higher conversions.
Headline results:
Click Through Rate (CTR): 4,443% increase on industry standard
Social engagement: 1,159% increase on industry standard
Website conversion: 215% increase on industry standard
This year we are focusing on #MagicMoments, as we work on building brand affinity and reach. We will be giving spot rewards to great #MagicMoments, as well as running a more formal competition, where we will be giving away a two-night hotel stay, for two people, every week.
You can join in the fun and help share in the #MagicMoments here https://hiltonmagicmoments.com
To find out more about this technology and how it can be used to drive efficiencies for your brand, please contact our Global Head of Digital Marketing, Jan Mikulin.
---
Grayling Team