What's Hot at IFA?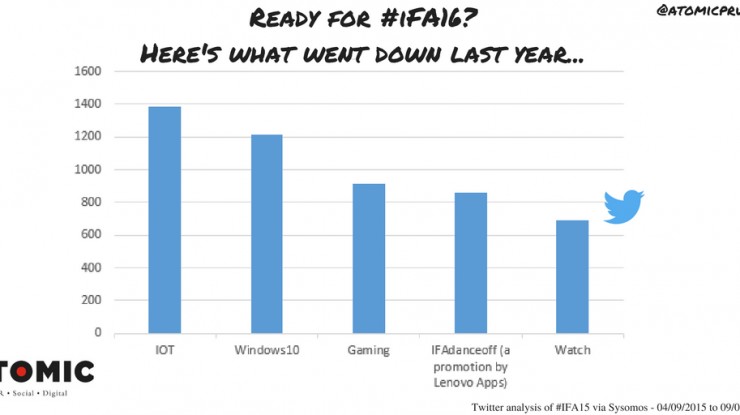 2nd September 2016
---
On the 2nd of September 2016, Team Atomic - Grayling UK's consumer brand and tech division - will be putting boots on the ground in Berlin to tackle one of the big beasts of the technology trade show calendar – IFA 2016. Atomic's Gabe Trodd shares his predictions for this years show.
There are two certainties at IFA. Firstly, lots of hot new tech will be unveiled – from headphones, smartphones and TVs, to audio and photography devices. Secondly, the players of the tech world will be battling it out for a share of voice at the show.
But amongst the thousands of visitors and exhibitors, what are the issues and topics that will matter the most beyond the shiny new tech being unveiled? Ahead of this year's IFA, we returned to the hallowed gates of Atomic's analytics lab to reveal the issues that took off on social media at last year's event, and what drove them.
1. The Internet of Things (IoT)
Coming in at number one is the Internet of Things (IOT). Last year, the conversation was driven by some fun and futuristic tech innovation, which captured the imagination of delegates. Intel's smart coffee machine certainly caused a stir…
As one delegate noted, saying goodnight in bed will never be the same again.
Martin Boerner, of Samsung, sounded a word of caution though: "88% of people have no idea what #IoT is".
2. Windows 10
A keynote by Nick Parker of Microsoft demonstrated new Windows 10 devices, including tablets, 2-in-1s, premium notebooks, gaming devices and all-in-ones, ensuring that Windows 10 was a big part of the conversation on social media.
3. Gaming
Meanwhile, gaming drove conversation in a big way, helped in part by the launch of new smartphones and laptops designed specifically for gaming.
4. IFAdanceoff
An IFA 'dance-off', a promotional campaign by Lenovo Apps where delegates were encouraged to snap themselves in a robot pose and tweet it for a chance to win prizes also generated interest (and laughter).
5. Watch
Inevitably, watches, wearables, phone and drones all lit up social media too.
We can't wait for this year's show, and if there's any kind of dance-off this year, Team Atomic promises to be there!
You can follow the Atomic team at IFA16 at @atomicpruk.
***
These data are based on an analysis of tweets using #ifa15 between 04/09/2015 to 09/09/2015 via Sysomos.
---
Grayling Team