NGOs are welcome to join "Grayling 2020Challenge"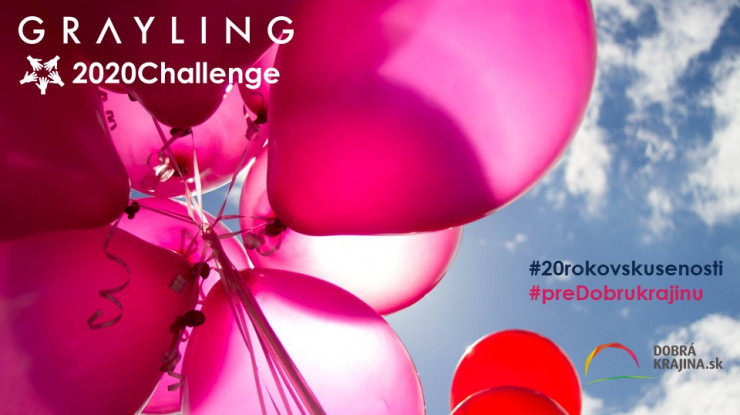 11th June 2019
---
To celebrate its 20th anniversary in Slovakia, Grayling has decided to share its experience contributing to the visibility of projects that are changing Slovakia for the better. In collaboration with the Pontis Foundation, the agency has announced a call to join the Grayling 2020Challenge. Non-profit organizations, which are grouped by the donor portal DobraKrajina.sk, will be eligible to apply for a free PR consultation by the end of the year. One lucky winner will receive 20 hours of individual communication mentoring in 2020.
Grayling Slovakia has provided public relations and public affairs communication services in Slovakia for 20 years. As part of one of the world's leading communications networks, it creates integrated communication solutions and campaigns for clients from various industries in the commercial, public and non-profit sectors. The Slovak branch decided to celebrate its anniversary by helping to raise awareness of projects that are changing their country for the better. In cooperation with the Pontis Foundation, it has launched Grayling 2020Challenge for non-profit organizations grouped by the donation portal DobraKrajina.sk.
From May 28 to October 31, 2019, organizations can sign up for a free hourly consultations with Grayling communications experts. These will be focused on operational PR consultancy. Subsequently, the participating organizations will have the opportunity to prepare a brief draft of their own communications project, focusing on one communication goal - for example, to raise awareness of the organization, the selected activity, or to promote donor communication. The winner will get 20-hours of communication mentoring by Grayling.
"Within the framework of the donation portal DobraKrajina.sk, we regularly communicate with various non-profit organizations and try to help them improve their work, especially in the field of PR. We see how lack of time and lack of expertise limits their potential. The most important thing is always to bring project to life. Often there is not enough time left for PR. We are pleased that there are companies like Grayling in Slovakia, which are willing to invest their time and expertise to help non-profit organizations," says Jana Desiatniková, Program Manager from Pontis Foundation.
"Grayling has been cooperating with Dobrá krajina for a long time and we have already taken part in several training courses for non-profit organizations that it covers. This activity is a meaningful enrichment for us and it also pushes us further in view of the needs and solutions of non-profit sector communication. We share our experience with organizations that do not have sufficient capacity - whether personnel or financial - to provide constant and professional communication support that is very much needed for them. It is important that the authenticity and importance of the day-to-day work of small or larger non-profit organizations in the company resonate and receive appropriate support and appreciation," says Monika Révayová, Deputy Managing Director from Grayling Slovakia.

---
More information about the project:

WHAT ARE WE LOOKING FOR?
20 unique stories that demonstrate strong emotion, authenticity and which people should know about because they positively affect Slovakia.

FOR WHOM?
20 projects from donation portal by Pontis Foundation – DobraKrajina.sk, which have an original story and are trying to find a way to tell it
Grayling Slovakia's 2020Challenge is a tailor-made program for the portal Dobrá krajina. In a two-stage process, it will select a "challenger" and will help to make the winning idea a reality - helping its story to step out of the shadows:
1st PHASE (May – October 2019): #20x20 hours – series of individual consultations, preparation for the challenge
2nd PHASE (November – December 2019): #2020CHALLENGE – project selection (challenge winner) who will get 20 hour of pro bono consultations to support its project in 2020

---
Grayling Team