Lessons from an earthquake - by someone who was there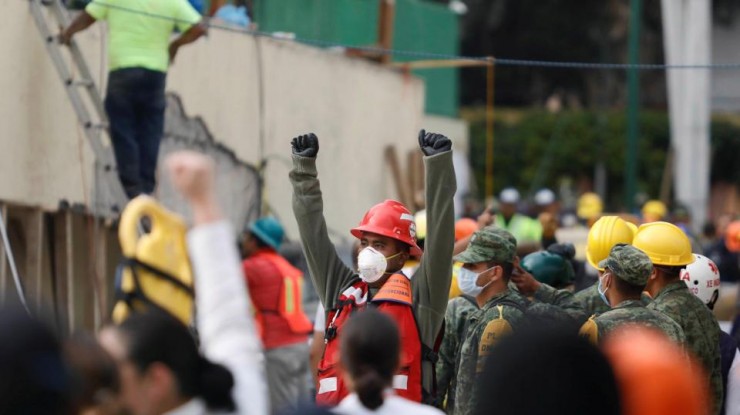 22nd September 2017
---
Executive vice president, Lucia Domville was on business in Mexico City when the earthquake struck this week. She reflects on the role of the media and social media... good and bad.
I lived through Mexico's earthquake in 1985. Then, many more buildings collapsed, and even more people died than did this week. We really never knew the exact number of casualties. Then, the dimensions and severity of the earthquake came to us mostly from people's own recounts, and radio stations, as the main TV station had collapsed. There was no cell phones or Internet, or Whatsapp, Facebook or Amazon online to donate.
Today, 32 years later, the media have played a different role in this latest tragedy. Within minutes, even when at least 30% of the city had lost its electricity and the signal on cell phones was choppy, I was able to tell my husband back in New York that Mexico had just been hit by a strong earthquake and there was talk of buildings collapsing. Even before energy was restored in our local office, and less than an hour after the earthquake, I had already received from my sister in San Diego videos from a high rise in downtown Mexico City showing the smoke around the city, confirming building destruction, a video of rocky waters in the tourist area in Xochimilco, and even a video of a building as it collapsed live. Too much news, too soon, amid the memory of a fatal experience on the same day, September 19, commemorated two hours earlier with a national evacuation exercise, contributed to a general psychosis.
Whatsapp and the Facebook app to mark yourself safe in disaster, contributed to establishing quick connections with family, friends, co-workers and clients. I couldn't reach home as the traffic in Mexico City collapsed and public transportation was affected, but I had learned from clients that their properties and employees were safe, and with the help of colleagues in New York, we were able to inform our clients' stakeholders. The information traveled fast, much faster than anyone could even tell…
Facebook played a major role in informing people of the location of collapsed buildings, including an interactive map with shelters, collection centers and services, exact locations where tools and first aid products are needed, mobilizing people to help and understand donation needs, organizing civil brigades throughout the city to remove debris to find survivors, along with publishing a list of hospitals, restaurants and shelters offering services. Technology has helped find people trapped in buildings as they texted friends or families with exact locations to be rescued. Information traveled so fast that people started adding the time of the day to posts to avoid crowding at sites where there was already enough help and aid. People connected with friends in Mexico and around the world. News from Mexico also traveled fast around ther world, and aid from Chile, Japan, Israel, Salvador, Honduras and US started arriving within a day.
Those of us who were only suffering from post-traumatic stress felt relieved that our families or friends were not directly affected, but Mexico was hurting. We all are. We feel sad, and scared of an aftershock. In 1985 many buildings that resisted the initial earthquake fell the following day with the aftershock. Every one of us not in the street helping, or trying to locate friends and family, was watching rescue labors on TV. We were glued to social media and the TV, trying to understand the magnitude of the damage and the casualties. This time, media played a role in processing the tragedy; we watched and read to understand the earthquake's location, intensity, type, the possibility of an aftershock, the types of cracks on walls to understand if their was structural damage or just cosmetics.
Sadly, the media also played a role in augmenting collective psychosis and proved a platform for fake news. As communicators, we have a civil responsibility to our audiences. This tragedy has allowed us to see the good side of humans working to remove debris for days, even in the darkness of the night under a storm, to collect and organize food and goods, to open shelters for those who lost everything, but it has also shown the dark side of some people and institutions. The saddest story broke almost after 48 hours after the earthquake. Everyone was following day and night the rescue of a girl buried in a school that collapsed. Many had been rescued, but the story of "Frida Sofia" remained a topic of conversation and the main story that ran in many TV channels despite the fact that over 45 buildings had also been destroyed. It created such an echo that correspondents from many newspapers around the world visited the site to follow the news. Today, after two days of continuous labor to remove debris and finding ways to get into the building, we learned that it was all fake news. There was never a Frida Sofia, nor there had been contact, or oxygen and water introduced to support her as efforts progress to rescue her… Why? Are TV ratings enough to support fake news and discredit other media that has proven invaluable to deal with a natural disaster? Was this a power struggle between media and the government? We will probably never know, but fake news served as a distraction to create a parallel reality.
---
Lucia Domville