Now Hiring: Chief Cynical Officer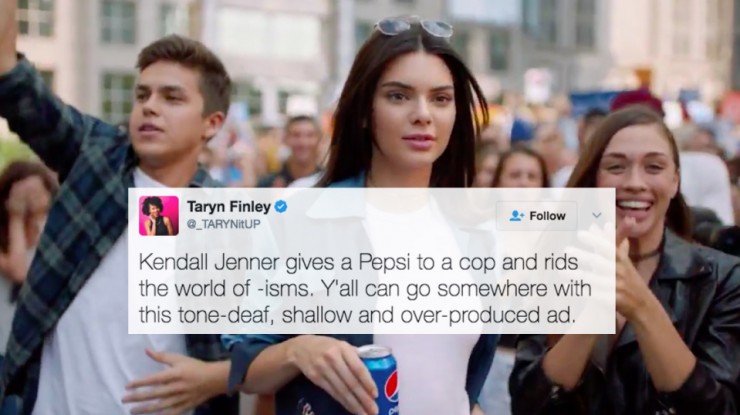 9th April 2017
---
Chief Client Officer, Danica Ross reflects on brand communication in an age of transparency.
#LeggingsGate, Pepsi… it seems otherwise-respected brands are increasingly suffering from "foot in mouth disease." Why?
Largely because they've failed to adapt to the new era of transparency, in which brands, corporations and individuals are publicly held to account via social media. And brands that fail to take this expectation of transparency and ethical behavior into account do so at their own peril.
If brands do something offensive or insensitive they will be pilloried – and rightly so. But what about those brands that were well-meaning, but mis-stepped?
Let's look at Pepsi. The tone-deaf ad, featuring Kendall Jenner and apparently making serious protest look like nothing more than a fun day out, prompted justifiable outrage in many quarters. Others have said, "I'm not offended, it's just laughable to insinuate that a carbonated soft drink can solve all of our problems." I'm sure Pepsi intended it to be their version of the seminal 1971 Cocoa-Cola ad, I'd Like to Buy the World a Coke. But while many have drawn parallels between the America of today (Trump, Russia scandal, Vietnam demonstrations…) with the America of then (Nixon, Watergate scandal, Black Lives Mater demonstrations and women's marches…) we live in a different era. The two ads may not be so different in their intent, but the 40 plus years that separate them have seen a huge change in the mindset of the consumer, and, through technology, in their ability to engage with brands in real time.
Now let's turn to #LeggingsGate, the lessons from which I addressed here, at the time. At the heart of the issue was a dress code that said people flying as representatives of the airline need to dress 'professionally' – for lack of a better word. This isn't a bad thing. But, alas, it was mis-enforced, and United did mis-step, making the well-intentioned policy appear not only sexist, but faintly ludicrous into the bargain. More importantly, they did so in front of someone who was quick to call the airline out via Twitter.
And therein lies the danger. We live in a society where people are quick to judge, and quick to tweet, and reputations can be damaged in no time. No matter that United's policy was well-intentioned; no matter that Pepsi's ad was well-intentioned. What matters is the perception.
So, what's a brand to do? Cyber security experts know that one of the best ways to ensure something is hack-proof is to hire a hacker to build or test it. And surely that is the lesson for brands – to stress test things with the people in the room who are most likely to arch an eyebrow and say, "Really? Have you thought about how this will look?". A Chief Cynical Officer, if you will. And in my experience, the person best qualified to fulfil that role is usually the PR person. Because you can be sure it's they who are cleaning up the mess at United Airlines and Pepsi right now.
---
Danica Ross