Could United CEO Oscar Munoz become the Bill Buckner of the airline industry?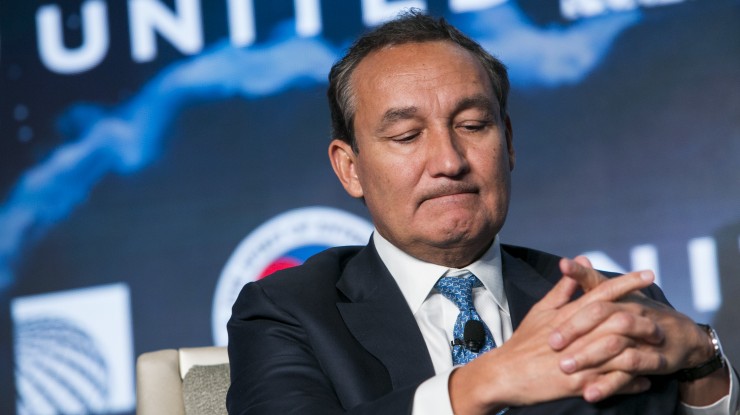 13th April 2017
---
Crisis management expert, David Schraeder looks at what lessons there might be from other CEOs who have found themselves in hot water.
We're just a couple of weeks into the 2017 Major League Baseball season, and already errors are costing the players and teams that commit them. It's early in the season so we're not likely to see an epic error such as Bill Buckner's in the 1986 World Series when he missed a routine grounder that should have been handled with 'ordinary effort', yet cost the Boston Red Sox the game, and ultimately the Series.
Buckner once remarked, "In reality, it was really blown out of proportion. Hey, errors are errors. Some of 'em are more important. I mean, the reality of it is, people in baseball know that error did not specifically cost us the Series. It wasn't the seventh game."
There is a certain tone deafness to this comment. It fails to take into account how much pain his error caused millions of fans, not to mention his team and organization. Sound familiar?
Let's take a look at what lessons United CEO Oscar Munoz can learn from three CEOs who, like Bill Buckner, committed errors that ultimately proved costly to their companies, their shareholders and themselves.
Ex-Wells Fargo CEO John Stumpf
The Wells Fargo sales teams opened millions of bogus accounts, in part to meet sales goals set by senior management. The situation was serious enough to merit Congressional Inquiry into Wells Fargo. In a statement published on the Wells Fargo website in September 2016, Mr Stumpf stated, "Our objective has always been and continues to be to meet our customers' financial needs and drive customer satisfaction. We are eliminating product sales goals because we want to make certain our customers have full confidence that our retail bankers are always focused on the best interests of customers."
Several years, two million fake accounts and a Congressional Inquiry later, this statement was a case of too little, too late. A month later, Stumpf "resigned effective immediately". This week, the Wells Fargo Board of Directors clawed back $28 million in compensation to Stumpf. In part, the Board decided Stumpf had not done enough to address the culture that led to the bad behavior.
The lesson for Munoz: This is a case of recognizing risk inherent in a business practice and fixing the problem before it becomes a PR nightmare. For Mr Munoz, the overbooking strategy is overdue for a re-examination. The same is true of the policy that led to #leggingsgate. And while you're at it Mr Munoz, would you mind changing the bag fee policy that has caused everyone to want to place their bags in the overhead bins? But it is also the application of those policies that have caused the issues. The United employees involved were doing things by the book; maybe the real problem to be addressed is an inflexible culture that has no tolerance for flexibility, interpretation or, well, common sense.
Ex-BP CEO Tony Hayward
In what may be one of the most epic Bill Buckner moments in crisis communications history, BP CEO Tony Hayward committed a serious error. On April 20, 2010, the Deepwater Horizon explosion and oil spill in the Gulf of Mexico occurred. Forty days later, as the oil continued to flow into the Gulf, destroying thousands of miles of pristine coast line and ruining the livelihood of the fishermen and communities that relied upon the Gulf, Tony Hayward was visiting the region. It was on May 31, 2010 when he said in a televised interview, "We're sorry, we're sorry for the massive disruption it's caused to their lives. And there's no one who wants this thing over more than I do. I'd like my life back."
And that wasn't his only gaffe. Take a look here on the TIME website for a greatest hits compilation of Mr Hayward's most damaging comments.
Three months after the crisis started, Hayward was forced to resign as CEO of BP. Still tone deaf, he began his resignation with "It's a very sad day for me personally." The crisis that affected the ecology of the Gulf of Mexico and millions of residents, was not only causing him inconvenience, it also made him sad because he lost his job. Talk about tone deaf.
The lesson for Munoz: In PR terms, Mr Munoz can derive from this example that any crisis is a human event. In crisis circumstances your first communication can't be about you, or the company, or placing blame. It should be about those who have been injured in some way. Communicate compassionately, and with consideration towards the people affected, and use the words that ordinary people would use. But Munoz dropped the ball. In a Tweet posted by United Airlines on April 10, 2017, Mr Munoz had his Bill Buckner moment. "This is an upsetting event to all of us here at United. I apologize for having to re-accommodate these customers..." Re-accommodate? These customers? This apparent lack of feeling for a human being took a big story and amplified it a hundredfold.
Ex-Turing Pharmaceuticals CEO Martin Shkreli
The so-called "bad boy of the pharmaceutical industry", previously a hedge fund manager, Shkreli found himself in the middle of a firestorm that arose in response to Turing Pharmaceuticals raising the price of Daraprim, a 62 year-old drug used to treat a type of parasitic infection, from $3.50 to $700/pill, overnight. The New York Times reported on the price hike on September 21, 2015.
Taking the offensive, Mr Shkreli went on CNBC the next day. Under questioning about the price increase by anchor Brian Sullivan, Mr. Shkreli stated, "We feel this is an appropriate price." He later adding that when Turing purchased Daraprim "we definitely planned on raising the price, that's for sure." He said that before the purchase, it was "pretty clear than Daraprim was not priced appropriately. We took it to a place where we can make a comfortable profit."
On December 18, 2015, just two months after that price hike, Mr Shkreli resigned. In that brief window of time, he went from being a high flying CEO to being vilified, grilled by Congress and arrested on securities fraud charges.
Perhaps upon reflection, Mr Shkreli would agree that increasing the price of that particular drug by a factor of 20 was not such a great idea. His real error though was that he missed the opportunity to put a stop to the crisis by reversing or modifying the decision – or even indicating that he'd consider it. He could have handled that ball with "ordinary effort".
The lesson for Munoz: Mr Munoz missed the opportunity to say "we got it wrong". He even fumbled his second chance, on Good Morning America. The window is not quite closed, though. Demonstrate leadership and communicate clearly what you are changing, and why it will ensure no other passenger will ever be injured and humiliated again on a United flight. And if you say you'll do it with urgency – stick to your word and get the job done on time.
What next for Oscar Munoz and United?
Oscar Munoz Munoz finds himself at the center of a major crisis at United Airlines. It hasn't cost him the game, yet, but a series of unforced errors has fueled an even bigger fire than that which the incident itself sparked. The tweet, the leaked email to staff, the Good Morning America interview... it could have gone better.
While the situation, the initial communications response and the policies and culture that led to this particular statement are being hotly debated and broadly discussed around the world, it is the direct impact that it is having on United's business that should give every CEO pause. United stock plunged following the Tweet and subsequent firestorm, New Jersey Governor Chris Christie has publicly called out United and demanded an end to overbooking, and if my own personal Facebook feed is any indication, there are growing calls for a United boycott.
It's obvious to an observer that Mr Munoz is facing a critical moment that will impact his company, his industry, and his career much like the circumstances discussed here affected the other three CEOs. Ninety days from now we should have a much better idea of whether Mr. Munoz is going to be viewed as someone who made an error that was bad, but didn't lose the Series, or a CEO that failed to make the necessary cultural changes needed to take United forward.
He's already made steps in the right direction with a changed tone – "I want you to know that we take full responsibility and we will work to make it right. It's never too late to do the right thing."
If he doesn't try to get back to his life too quickly or try to defend overbooking and involuntary removal of passengers, maybe, just maybe, he survives this. But as the experiences of Bill Buckner and our three CEOs show, an error of this magnitude will leave an asterisk on your record forever.
---
Grayling Team