Grayling Brussels' Brexit Bulletin - 23 February 2017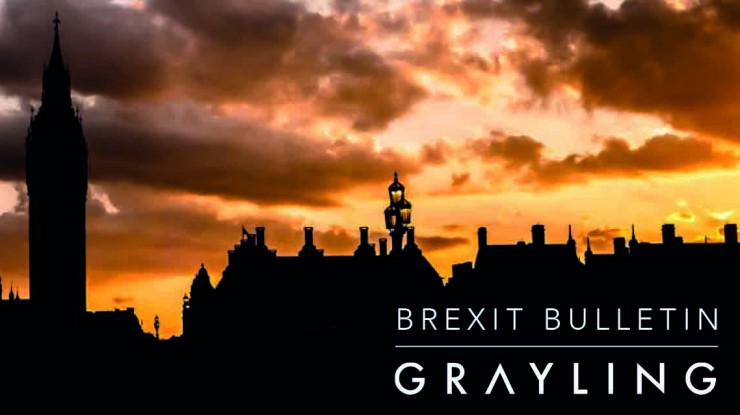 24th February 2017
---
The BREXIT Bulletin: The certainty of Brexit

Is Brexit revocable?

Tony Blair certainly seems to think so, calling on Remain supporters to "rise up" and challenge the political consensus to leave the EU, the Single Market, and the Customs Union.

He is unlikely to be satisfied in his demands for two reasons.

1. The political course has been set. The House of Lords may introduce some amendments to the Brexit Bill next week, but no-one is seriously suggesting that Article 50 will not be triggered next month. That MPs have caved so spectacularly represents a major success for Theresa May and her Government.

2. Blair is seen as damaged goods in a country which still holds him responsible for the Iraq War and the continuing fallout. He may well have expressed a view which is widely held in some parts of the country, but unfortunately for him, it is easy to dismiss, partly because of the messenger.

Any lingering hopes by some Remainers that Brexit may somehow be permanently delayed or that there would not be the political will to trigger Article 50 have now been quashed. May believes her political future depends on a clean and successful Brexit, and in some ways she is right.

Yet over the Channel, one thing is for sure - the EU will present her with a massive challenge.

Don't forget to check out our other #Brexitpapers including the Brexit Organigram, the 'Great Repeal Bill', Guy Verhofstadt, the European Parliament's lead negotiator on Brexit, Sir Julian King - the UK's last Commissioner. Shadow Brexit Minister Sir Keir Starmer, the new UK Permanent Representative Tim Barrow, Article 50, the UK's "Minister for Brexit" David Davis, Chief Brexit Negotiator for the Commission, Michel Barnier, his deputySabine Weyand, and what Brexit means for Brits working in the EU institutions.
If you have any suggestions about the Brexit Bulletin or want to find out more about a specific aspect of Brexit, please do let us know. Please visit the Grayling Brussels website and follow us on Twitter @TheEULobby.



The highlights from the UK


Enter the Blair! Tony calls on Remain voters to "rise up"
Last week former UK Prime Minister Tony Blair re-entered the limelight, calling on Remain supporters to "rise up" and challenge Brexit. "I don't know if we can succeed. But I do know we will suffer a rancorous verdict from future generations if we do not try," he said, adding that he will establish an institution to develop arguments against Brexit. He was also highly critical of the Labour Party, saying it is "the facilitator of Brexit", that Scotland now had a "far more credible case" for independence, and that Brexit would have a "destabilising impact" on Northern Ireland.

The Grayling view
Whilst many will agree with Blair's message, his reputation is now so damaged and he is such an easy target for Leave campaigners that the message will likely get lost. It smacks of a sign of desperation to keep the UK inside the EU, when the path has already been set, and Article 50 will be triggered in just a month. Indeed, Blair's intervention comes about six months too late - had it have come in September, when feelings were still raw, the message may have resonated more than it does today.


UK Government makes offer to Vauxhall
The UK Government has made an offer to the automotive manufacturer Vauxhall to encourage it to keep its car plants in the country, mirroring its deal towards the end of last year with Nissan. The offer was actually made to PSA group (which owns Peugeot and Citroën), which is in talks with General Motors to buy Opel, the UK subsidiary of which is Vauxhall. Vauxhall employs 3400 people in the UK. Few details are known about the offer to Vauxhall, but it is thought to include guarantees that Brexit will not disrupt supply lines of trade with the EU, as well as helping the company continue its research into, among others, electric cars.

The Grayling view
The UK Government successfully kept Nissan in the country last year - will it succeed with Vauxhall? If it doesn't, it will mark a serious setback for post-Brexit Britain and could indicate how other industries view the economic attraction of the UK.


UK denies plan to bribe Eastern and Baltic states for Brexit negotiation support
On 21 February, the UK's Brexit Minister David Davis dismissed as "implausible'"reports that the Government is planning on paying Eastern European and Baltic states in return for support during the UK's Brexit negotiations with the EU. According to reports, the money would be diverted from development projects in Africa and Asia to states such as Poland and Lithuania who would, in exchange, then vote in the UK's favour over the next two years. Davis, however, said bribing countries for support "is not the way negotiations are going to go" and took the opportunity to recall the UK's interest in an "overarching" free-trade agreement with the EU post Brexit.

The Grayling view
Reports of foreign aid in exchange for support show how the UK may be trying to strengthen relationships with states such as Poland that have a vested interest in maintaining the status quo - in terms of workers' rights for Polish citizens in the UK, for example. It also indicates a move to sway the smaller EU Member States such as Lithuania which may be on the fence regarding Brexit but will have a role to play in how Brexit pans out, with important decisions in the Council taken by unanimity.


BMA warn of impending exodus of doctors
On 23 February, the British Medical Association (BMA) warned of impending 'disaster' for the NHS and UK science industry as its research shows 40% of doctors who qualified in the European Economic Area may leave the UK because they feel less welcome post-Brexit. The BMA's findings are based on a survey it undertook of 1,193 EEA doctors working in the UK. When asked if they were thinking about leaving the UK following last year's referendum vote, 500 (42%) said yes, 309 (26%) said no, 278 (23%) were unsure, while the other 106 did not answer.

The Grayling view
If anywhere a number of doctors leave the UK, the already severe personnel shortage in the NHS would worsen and the UK health sector would suffer more broadly, notably the public and private bodies which employ 150,000 'unskilled' care workers from EU Member States. The irony is that the health sector, deemed too politically delicate to fall solely under EU competences, now appears to be the area which may be the most profoundly affected by UK-EU relations. Perhaps this is what happens when the Government allows foreign workers form a large part of a sector but then hold referendums on the political structures which make this possible.



The highlights from Brussels

No trade talks until citizens' rights and exit bill agreed - Barnier
Chief Negotiator for the European Commission Michel Barnier plans to spend the first 6 months of the negotiations focusing on the "divorce deal", which will cover the UK's exit bill and citizens' rights, and only once these are finalised begin talks on a bilateral trade deal. This process could move faster if the UK agrees quickly to the proposals. This means that, assuming the UK triggers Article 50 in March, there will be no trade talks until 2018. The UK is still hoping that trade can be discussed in parallel with the other issues.

The Grayling view
This will come as a blow to the UK Government, which is hoping to begin trade talks with the EU as soon as possible, and puts it in a tight spot, since the EU seems to want to only begin trade talks once citizens' rights and the exit bill have been agreed. Given the wide support for this approach across the EU, the UK will probably have to give in and agree to whatever is on the table fairly early on to ensure that a trade deal can be broached still in 2017.


Juncker says it will take longer than 2 years to reach agreement
Commission President Jean-Claude Juncker has said it will likely take longer than two years to agree on a Brexit deal. "I do not think .. we will succeed within 24 months to clear up the arrangements for Britain's exit from the EU and to (forge) the whole relationship between Britain and the European continent," he said. He explained that the UK would have to change at least 20,000 laws before Brexit and also reiterated that the UK could not complete trade deals until it leaves. Juncker's remarks were echoed by the former EU Trade Commissioner Peter Mandelson who said it would take up to a decade for the UK to renegotiate its relationship with the EU.

The Grayling view
This is not a new idea, and even Theresa May had earlier suggested that a transitional period is likely once an agreement has been reached.The real stumbling block is that the UK wants to also agree on a trade agreement during the negotiations, whilst the EU is content with just finalising a "divorce" agreement. The EU seems to have a more realistic view at the current time.

News from Asia
Brexit may facilitate EU-India trade deal according to MEPs
According to an internal document drawn up by the European Parliament committee for trade (INTA), it will be easier for the EU to strike a free trade deal with India after the UK leaves the bloc. Thus far, on the UK side, India's desire to maintain tariffs on scotch whisky has hindered progress on a EU-India deal, and Theresa May's opposition to India being given extended visa opportunities for its skilled workers in the UK has also been a hurdle in previous trade talks. The EU is particularly keen to break the deadlock with India because, despite the UK's colonial links with the country, India's trading ties are more important with other EU Member States. For instance, Germany ranks 6th on India's trading partner list with the UK languishing in 18th place.

The Grayling view
Brexit prevents the UK from leveraging the EU to pursue its specific trade demands with third countries. We can expect such a change in bargaining circumstances to increase the UK's flexibility in negotiations with third countries, especially as it seeks to strike favourable deals with Asia alongside competition from the EU.
News from the US


Pence comes with message of goodwill for EU
US Vice President Mike Pence visited Brussels this week and told EU leaders - including Jean-Claude Juncker and President of the European Council Donald Tusk - that the Trump administration was strongly committed to Europe - this after the President had openly backed Brexit, courted Nigel Farage, and suggested that the UK was only the first domino to fall before others follow. "Whatever our differences, our two continents share the same heritage, the same values and, above all, the same purpose, to promote peace and prosperity through freedom, democracy and the rule of law, and to those objectives we will remain committed," Pence said.

The Grayling view
The EU was genuinely relieved at how the meeting went, but there remains anxiety and an overwhelming need to judge Trump not by his words - or indeed, by what his Vice President says - but by his actions. Whether Trump will have a lasting influence over the elections of various populist movements in France, the Netherlands, and Germany this year remains to be seen and will depend largely on what he chooses to express in the coming months.
Dates for your diary

23 February - Two by-elections in Cumbria and Stoke-on-Trent. UKIP Leader Paul Nuttall is standing in the latter constituency.
2 March - Northern Ireland elections
11-31 March - Possible triggering of Article 50
15 March - Elections in The Netherlands
April/May 2017 - French Presidential elections
September 2017 - German Federal elections
End October 2018 - Negotiations expected to end
March 2019 - UK expected to leave EU

Brexit cocktail in Brussels!

Not bored of Brexit yet? Nor are we!

On 30 March the Grayling Brexit Unit (GBU) is hosting a Brexit Cocktail from 6.30pm at our offices, Avenue des Arts 46, Brussels.

We want to highlight how business can approach Brexit as an exercise in damage limitation and make the most out of a difficult situation.

The event will bring together major businesses, EU/UK decision-makers, and leading academics to discuss how we can understand, approach and shape what Brexit means for the future EU-UK trade dynamic.

If you would like to attend or have any questions, please contact robert.francis@grayling.com.
Grayling Brexit Unit

Our Grayling Brexit Unit brings together the very best consultants from across the Grayling network and includes those who have direct experience of working alongside the leading political figures charged with negotiating Brexit in London and Brussels.

The Grayling Brexit Unit is here to support, guide and inform the success of your business and identify how the political dynamics will change as a result of Brexit in both London and Brussels. We are your Brexit experts.

No task is too big, too complex, or too ambitious - please contact Robert Francis (robert.francis@grayling.com) in our Brussels team or Jonathan Curtis (Jonathan.Curtis@grayling.com) in London for more information, and check out our brochure.
---
Robert Francis