Three of Grayling UK's leadership recognised in PR Week's Annual Top Influencer Power Book 2018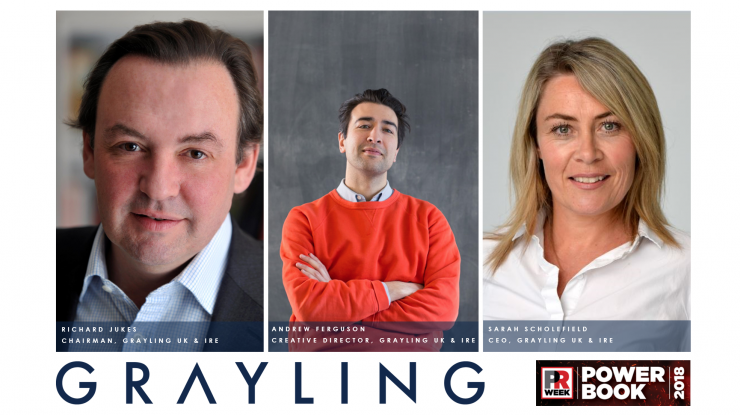 7th March 2018
---
Sarah Scholefield, CEO, Richard Jukes, Chairman, and Andrew Ferguson, Creative Director, from Grayling UK have been included in the UK PR industry's top compendium, PR Week's Power Book 2018.
This announcement comes the day after Huntsworth shared their financial results for 2017, demonstrating that Grayling has turned around an operating loss of £0.8m ($1.1m) in the previous year, to report operating profit of £1.1m ($1.5m).
The company's recovery was led by the UK business, which saw a "particularly strong rebound in performance", according to Huntsworth CEO, Paul Taaffe.
The results follow a strong year of development and evolution for the company under Scholefield and Jukes's leadership. Grayling UK made a series of senior hires to bolster its corporate and public affairs practices, which are already showing signs of growth in 2018. Additionally, Grayling UK also strengthened its creative service offer by the recruitment of Andrew Ferguson as the company's new Creative Director. Andrew, who was also included in PR Week's 2018 Power Book, brings a fresh perspective and offers a new and bolder creative vision for both the clients and the agency.
The PR Week Power Book is the definitive guide to the brightest and most influential PR professionals in Britain.
---
Grayling Team