A new vision for conservatism: more than the sum of its parts?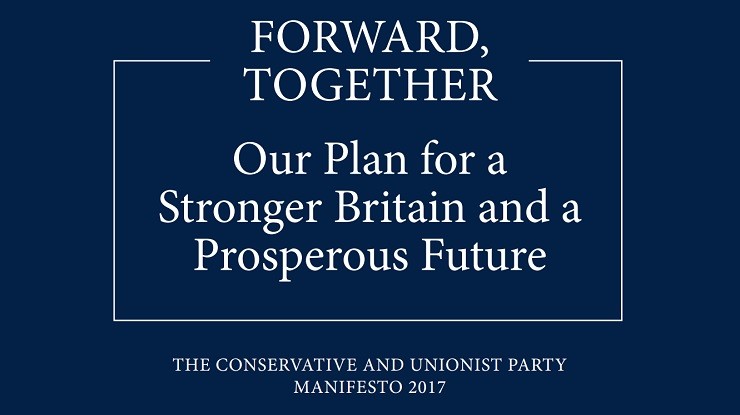 19th May 2017
---
Theresa May's manifesto, published yesterday, reflects the Conservative Party's double digit poll lead as much as it does May's vision for the future of conservatism.
All of those vote-winning-but-hard-to-implement pledges of the Cameron era are gone – the pensions triple lock will be reduced to a double lock and the other triple lock against tax rises has been reduced to a single pledge not to raise VAT, with no mentions of income tax or national insurance.
While Cameron fought hard to hold on to the grey vote, May's team seems confident that it won't be going anywhere. On top of abandoning the pensions triple lock, the manifesto contains a number of pledges to tackle intergenerational equality, including controversial proposals to address social care funding (already being labelled a "dementia tax") and aggressively means testing winter fuel payments.
On Brexit, there is little written on the negotiations that wasn't in the Government's White Paper – we are indeed leaving the customs union and single market. However, it is interesting to note a new pledge for what happens to the money coming back to the UK from the EU: a United Kingdom Shared Prosperity Fund will be used to reduce inequalities between communities across the four nations.
There are few new pledges for businesses. While corporation tax will continue to fall to 17% by 2020, the manifesto includes significant promises on fair corporate pay, including making executive pay packages subject to strict annual votes by shareholders. Greater control over takeovers and mergers as well as foreign ownership of critical national infrastructure have Nick Timothy's fingerprints all over them. And the controversial pledge to reduce immigration to the "tens of thousands remains", with a doubling of the Immigration Skills Charge to boot.
Aside from these headlines, there is relatively little that wasn't already government policy. However, certain sections represent an enormous departure in tone. Three paragraphs on principles practically redefine conservatism: "True Conservatism", the manifesto states, "means a commitment to country and community; a belief not just in society but in the good that government can do".
And that gets to the crux of this manifesto. In narrative terms, it could be heralded as a radical new direction for the Conservative Party. In substance, the reality is rather more incremental.
---
Grayling Team