Sniffing out Instagram success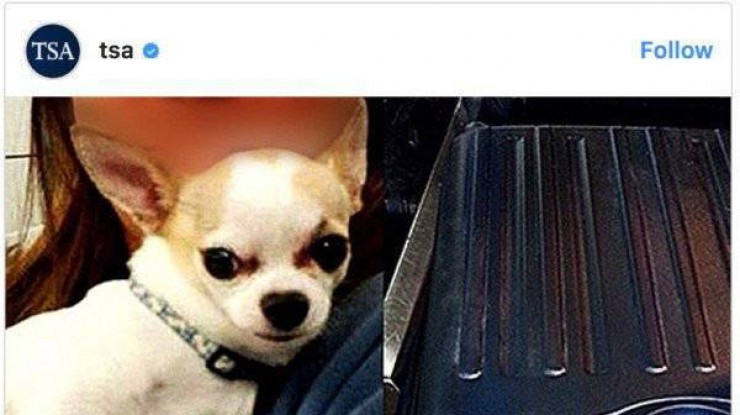 29th November 2017
---
San Francisco's Brigit Carlson shares tips for Instagram success from the unlikeliest of places.
When you're going through the security line at the airport this holiday season and you get pulled aside because your pant cuffs set the full body scanner off – as usual – you're probably not thinking, "wait, lemme 'gram this first". But don't worry, Bob Burns is.
Bob is a social media hero who gets paid to make dad jokes all day, and who brought the devoted 812,000 followers of the TSA Instagram such gems as "#piecanfly" and "#TSAgoodcatch". The man who brought a sense of humor ("This weapon will not only help you defend yourself against Orcs, but it also allows you to butter two slices of toast at the same time!") to one of America's least favorite agencies, claims that his secret to success is "weapons and dogs". The success of the TSA's Instagram account, however, stems from more than just its wealth of close-up schnoz shots of furry bomb detectors and their finds. What the brand has done is find the social media sweet spot of clever, informative and engaging.
One thing the account does really well is promote TSA "wins". While everyone loves to focus on the story of the time their friend's cousin got through security with a hunting knife strapped to their leg, the account works to show what they do catch, both with individual photos and tallies of, say, the number of guns, boot knives and batarangs found each week. Not only does the account feature interesting items TSA agents have caught going through security, but it also provides readers with friendly reminders on how to, for example, properly travel with a weapon. Case in point: "Andy Warhol's throwing knives were discovered in a carry-on bag at the Denver International Airport (DEN). Throwing knives are only permitted in checked bags".
The account also pulls from the TSA Twitter to answer consumer questions. Amidst the confusion over the ever-tightening regulations imposed on post-9/11 airport security, the TSA created @AskTSA, a thread dedicated to answering the ever-pressing question of "Can it fly?". In response to a question about a flying feline, Bob replied: "The airlines regulate what counts as a carry-on, but you can bring your cat through the TSA checkpoint. Just don't pack her in your bag. We found a Chihuahua in a checked bag once, and it was not happy. Visit bit.ly/tsacats to learn more about traveling with pets". For Thanksgiving one year, he tweeted the now annual: "Your pie can fly. Pies are allowed to be carried on to your flight. Happy Thanksgiving! #ThanksgivingTravel #PieCanFly".
The biggest marker of the account's success on this front is that, because they take the time to respond individually to posts, people engage! The account gets elaborately staged pictures, ridiculous captions and outrageous hypotheticals in response. A recent example of this was a picture of someone in a T-Rex costume, captioned "Can me go, too??? @AskTSA Can we bring our dinosaur on a plane? He doesn't bite. Much". The reply was a very on point: "Jurassic'n me what? Your dinosaur would have to be placed in the cargo hold because well, he's a dinosaur… But also because he wouldn't be able to raise his arms in the body scanner."
In this effort to engage its audience, the account also profiles some of the TSA's friendliest employees – the sniffer dogs. The dogs are introduced on the account every few weeks with pictures of them on the job and just being dogs. The account also sheds light on their naming system, a subtle and lasting way that the TSA honors the victim of the 9/11 attacks: "This is Bbucca, an explosive detection canine working at the Seattle–Tacoma International Airport (SEA) checkpoint. Do you know why certain TSA canines' names are spelled using the first letter of the name twice? That's an indicator that the dog was named after a 9/11 victim. Bbucca was named in honor of Fire Marshall Ronald Paul Bucca who was killed in the South Tower of the World Trade Center."
The blog has cultivated a unique voice that allows them to put a human face on something that, for many, is a nerve-wracking and confusing part of travel. It uses a quirky dose of pop culture: "Satan's fidget spinner was discovered in a carry-on bag at the Savannah/Hilton Head International Airport (SAV). While normal #FidgetSpinners are permitted, this one is a weapon" and a goofy approach to get its point across about safety and about what the TSA actually does all day. Its success lies in its ability to reach people with information, engage them, make them laugh, and, at the end of the day, it stays true to its weird, weird self.
Brigit Carlson is a senior account executive with Grayling's San Francisco team.
---
Grayling Team