Take a stand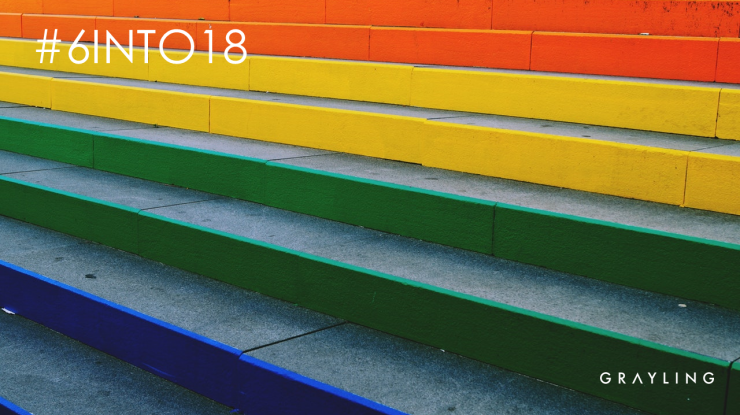 20th December 2017
---
The lines between business, politics and culture are ever more blurred and organisations can no longer sit on the fence as consumers demand clarity, commitment and action, and diversity is the order of the day. Tom Nutt and Jonathan Sanchez discuss what it means for organizations to take a stand.
Tom Nutt
If 2016 was the year of the western populist uprising with Trump in the US and Brexit in the UK, 2017 was the year that brands and communicators stood up and took notice. Audiences had demonstrated that they wanted a new approach and communication needed to reflect this.
From Shell recognising the consumer desire for biofuel with their coffee-powered London buses, to the CEO of Marriot publicly slating the US president, to Heineken's "Worlds Apart" campaign bringing together opposing sides in the UK over a beer, we have seen the power of brands 'taking a stand'. Where previously the desire to break through was coupled with the need to appeal to the widest constituency there is now an understanding that to keep your audience you must show them something to believe in. It's not enough to say you care - you now have to act on it.
Jonathan Sanchez
The irony of this 'western populist uprising' is that, in effect, the continent is simply playing catch-up with the majority of high-growth Asian nation states. What we once, as a 'developed' society used to deride – the cash for votes corporate cronyism and business 'taking sides' in societal issues – like who runs the country, is the very antidote to antipathy we are seeking. It's worth drawing some comparisons between the current American political system and the infiltration of international business influence into welfare, education and sustainability.
Tom Nutt
The communication industry has been focused on authenticity and transparency for years but this is an extra level. Where previously the proliferation of channels and influencers has lead organisations to engage and converse they are now being asked to think and believe. Their behaviours, rather than being characterised as good or bad, positive or negative are now being seen as, us or them, with us or against us.
Jonathan Sanchez
This presents as an opportunity and a challenge. On the one hand companies that can reflect significant public opinion swings will be rewarded with brand loyalty. On the other the cynicism of 'you like, we like' marketing can be insincere, short-term and transparent. Standing for something has never required such balance, akin to passing a drunk-driving test.
Tom Nutt
This polarised world has thrown up extreme reactions that can leave organisations bouncing around in the pinball of public opinion. In the UK, Paperchase, the high street cards and gifts store publicly apologised for running a promotion with the Daily Mail, promising it "Won't Ever Do It Again". Put under pressure by a campaign group, Stop Funding Hate, the store pulled all future promotions. Following the apology, twitter was red hot with commentators criticising the decision and vilifying Paperchase for 'caving' to pressure. In essence, the brand hadn't taken a stand, it didn't know what its audience believed in and reaped the whirlwind of its 'flipflopping'.
Jonathan Sanchez
And speaking of flip-flopping, what better example of the challenges of 'nailing your flag to the purpose pole' creating disruption and uncertainty has to be Brexit. Just as the British broke up with Europe (it's not you, it's me) we now face a 'Blair-ntry' with the omnismiling New Labour pioneer showing his hand and pressing for us to patch up our differences and stay together for the kids.
Tom Nutt
We can expect to see more of this in 2018. Consumers are losing trust and getting angry. They are shouting loudly and expect to be heard – but more than this, an apology is no longer enough, the misstep will not be tolerated in the first instance. And when most consumers wouldn't care if 74% of brands ceased to exist tomorrow, there is no margin for error in the new communication landscape.
Jonathan Sanchez
Never before has the belief that consumers vote every-day with their wallet been more relevant, and harking back to the days of Clinton and the 'permanent campaign' - as opposed to 'permanent stain', must be embraced to make sure brands and corporates get the votes they need – pounds, euros and rembimbi. Business is politics and politics is business, we must learn from the world's most powerful brands (country's – cf. Singapore) to help us triangulate, cogitate and demonstrate our values. It's time for business to come out of the closet and tell us who they really are.
Tom Nutt
Organisations need to know their beliefs and stick to them, and fight for their relevance in the new consumer environment. Inconsistent behaviour will be called out and keeping a low profile will leave you open. More and more attack is the best form of defence.
How can organisation seize this opportunity? The best and the bravest will be rewarded. The company that has a true understanding of its own behaviours, throughout the supply chain, in all their interactions will shape the agenda. Those that take ownership of issues, act as stewards of solutions and take collective custody of their actions with win out.
Jonathan Sanchez
They say that those who stand for nothing fall for anything. Therefore in this new VUCA, bi-polar status quo it's time to embrace risk, reject unilateralism and share your purpose with pride. One may refer to trust as the glue that binds us to brands, but at Grayling we believe it's more than that. Trust is a hygiene factor now, it's an inherent equity all business must steward. But it is simply the ability to convince people of a far more powerful call-to-action, who's side are you on and what do you stand for? Without purpose, trust is worthless.
Tom Nutt
At Grayling, we see this every day and look to support the game changers and embolden the best. We ensure that we create measurable advantage for the many and varied organisations we work for and understand the requirement of a trusted and purpose lead advisor to help shape and protect a brands reputation.
Looking forward our task will become more complicated, as our clients needs become greater and the cost of failure higher. In this context, we anticipate a wider range of organisations, sticking their head above the parapet and taking a stand for what they believe in.
Jonathan Sanchez
Beliefs incubate purpose and purpose driven businesses are the new standard in winning the consumer's vote everyday, everywhere, take a stand.
Tom Nutt is Head of Corporate at Grayling UK
Jonathan Sanchez is Creative & Strategy Director, Grayling Continental Europe
Join the conversation on twitter or LinkedIn using #6into18.
---
Grayling Team