URBAN FUTURE Global Conference appoints Grayling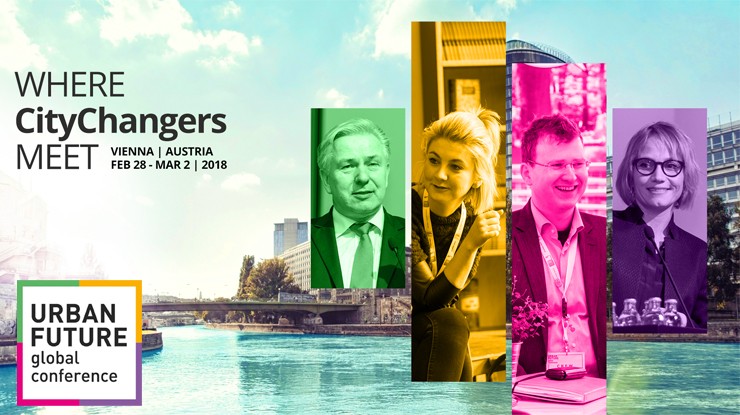 11th October 2017
---
The URBAN FUTURE Global Conference (UFGC) – Europe's largest conference on sustainable urban development – has re-appointed Grayling Austria to continue with strategic media consultancy and media and influencer communications. Following the remarkable success of the 2016 conference in Graz, the UFGC takes place in Vienna for the first time in spring 2018, making the Austrian capital the meeting point for CityChangers from all over the world.
The URBAN FUTURE Global Conference – short UFGC – was founded by Gerald Babel-Sutter in 2014 and has become the world's largest meeting place for international CityChangers: the most innovative minds of our time, committed people who are capable of driving change to make cities more sustainable. The conference focuses on people, their individual experiences and stories about urban development, and thus deliberately differentiates itself from pure Expo events.
Around 3,000 participants - including 200 speakers - from over 400 cities in 50 countries across five continents are expected to attend the UFGC 2018, which will take place from 28 February to 2 March 2018 at the Vienna Exhibition & Congress Center. These include Daniel Termont, mayor of the car-free city of Ghent, Saskia Beer, founder of TransformCity in Amsterdam, and Sasja Beslik, Head of Sustainable Finance at Nordea in Stockholm.
"The conference offers companies the unique opportunity to engage with CityChangers, learn from them and thus promote sustainability in their own cities more effectively", said Gerald Babel-Sutter, founder and CEO of the URBAN FUTURE Global Conference. "With its experienced infrastructure & CSR team in Vienna and its international network, Grayling is the ideal communication partner for the UFGC."
"We are pleased to continue supporting the URBAN FUTURE Global Conference on its successful path ", said Sigrid Krupica, CEO Grayling Austria. "With our expertise in the planning and implementation of major infrastructure and sustainability projects and the dedicated team around Unit Director Karin Wiesinger, we are confident that we will make an invaluable contribution to the success of the UFGC."
---
Grayling Team