Five lessons a crisis communications manager can learn from Bill Belichick, Tom Brady and the Patriots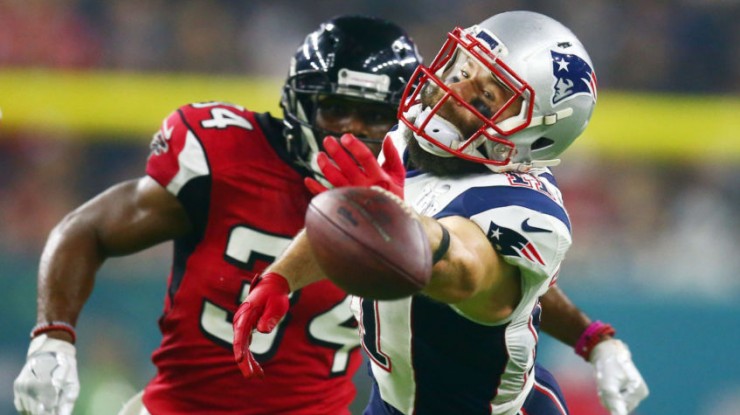 7th February 2017
---
David Schraeder of our US risk and crisis comms team draws inspiration from a remarkable sporting comeback.
The New England Patriots faced off against the Atlanta Falcons in Super Bowl LI this past Sunday in Houston, Texas. The excitement was running high at NRG Stadium as the coin was tossed by President Bush and the players took to the field full of optimism that they had the plan, strategy and skills needed to emerge the winner.
By the end of the first half, it was clear that Atlanta was literally running through and around the Patriots, and Tom Brady and Julian Edelman were out of synch. Gronk stood on the sidelines unable to run down the field and lend a hand. Belichick, Brady and the rest of the Patriots team were faced with a serious crisis going into the locker room, down 28-3…
Lady Gaga exited stage down after wowing the crowd at the Pepsi Halftime Show. The teams that came out of the locker room exhibited two distinct characteristics: The Atlanta Falcons took to the field overly confident that they were going to win. The locker room conversation was likely more about ring sizes and how they were going to spend their bonus dollars than about what the Patriots were going to deliver in the second half.
New England took to the field with fire, focus and determination in their eyes. How audacious to think that they could possibly win! No team had ever recovered from being down by two touchdowns in a Super Bowl let alone three and then some! How they executed their historic comeback holds some interesting lessons for crisis comms managers and the brands they are tasked with defending.
1. Stay calm, cool and collected, like Tom Brady: Getting upset prevents you from seeing things clearly and being able to execute. When the CEO is demanding answers, the media are writing inflammatory headlines to grab interest, and activist groups are launching campaigns against your brand, the crisis comms lead must maintain composure. We're the ones in the room that need to be able to view the situation from an objective and holistic perspective.
Lesson: Operating effectively in a rapidly changing environment that is already tilted against you requires a certain level of detachment. Just like the Patriots rallied around Brady, your team will draw confidence from your calmness.
2. Focus on executing plays that move the ball down the field: The Patriots put 19 points on the board in the fourth quarter to tie up the game including two two point conversions. Bill Belichick and his coaching staff then called eight plays that the team executed for 75 yards and the win in overtime. During a crisis it's rare that you can simply solve the problem with a single holding statement or apology. Keep your eye on the objective but work through each phase of the crisis as it unfolds. Your strategy is important but is only as good as your ability to execute it.
Lesson: Don't let setbacks early in the crisis keep you from continuing to manage a situation through to the end.
3. Make use of all your players but remain mindful that some may crack under pressure: Brady connected with Julian Edelman, James White and Danny Amendola to win the game but even Edelman was only 3 for 10 late in the game. Under pressure someone on your team is bound to miss an extra point like Stephen Gostowski (who unlike Bill Buckner was saved from being tarred and feathered, by the team ultimately winning the game). Not everyone will perform their best during a crisis.
Lesson: Train your crisis management team for all contingencies, including a team member or function not meeting an objective; they and the team will be prepared to adapt and find alternative solutions.
4. Stay focused despite the swirl of activity surrounding you: The turning point in Sunday's game was Julian Edelman's catch - and think about the circumstance under which he made it. He was flying through the air, defended by three Falcons players, had cleats and legs in his face and manage to catch the ball just inches off the ground. If you were watching closely you could see that his eyes never left the ball. If you've ever managed a crisis you'll be able to empathize with Edelman and admire the amount of mental training he has done to be able to attain this level of focus. In a crisis, your spokesperson is the ultimate personification of Edelman under pressure.
Lesson: Before you arrange an interview or put them on-air make sure your spokesperson can deliver in a hostile setting with lots of distractions. How well you as the crisis comms lead prepare them will determine whether they take their eyes off the ball when it counts.
5. Be gracious once you've overcome the crisis: Robert Kraft and Tom Brady had the stage and the mic, and an audience of 100 million people. They could have eviscerated Roger Goodell. But they didn't. They took the high road and Kraft simply said, "A lot has transpired in the past two years." Everyone knew exactly what he meant. Kraft and Brady then went on to give credit to the team and their fans.
Lesson: Be like Bob and Tom and avoid speaking negatively about your antagonists, even when you have the perfect forum to do so. Rather, speak about your brand and values humbly and show respect to your customers, clients, partners and employees.
Every crisis you are asked to manage must be approached as if it is the Super Bowl and you're down by 25 points. Whether you're Bill Belichick setting the strategy, Tom Brady coordinating the team or Julian Edelman making the big play when it's needed most, stay calm and execute perfectly. Your brand and your fans are counting on it.
David Schraeder leads Grayling's risk and crisis comms team, and may be contacted at: david.schraeder@grayling.com.
---
Grayling Team