The Cronut - February 2017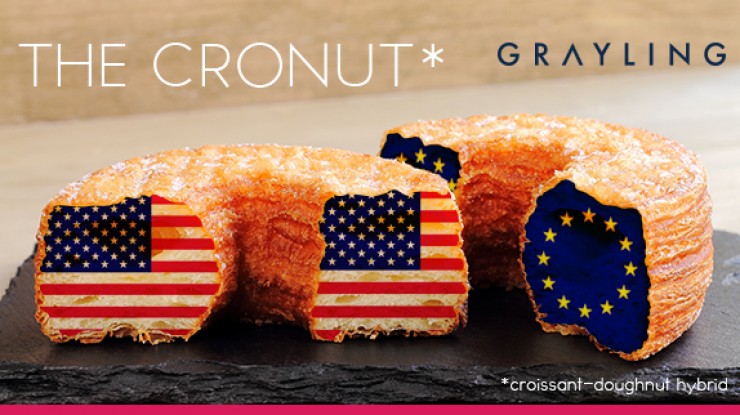 9th February 2017
---
Welcome to the Cronut, brought to you by Grayling Brussels and Washington, DC. Similar to New Yorkers' favorite pastry the cronut (half croissant-half doughnut), our bite-sized news articles meet halfway between America and Europe, to give you a taste of major policy developments spanning the Atlantic.

It's been less than three weeks since the inauguration of Donald Trump as the 45th President of the United States, and the tone has already been set for the four years to come.

The new President is – unlike many career politicians – delivering on his electoral promises. The Executive Orders have been attracting everyone's attention and triggered responses from political and business leaders across the world.

In this edition of The Cronut, our D.C. colleague MJ Marshall helps us decode the list of Executive Orders and what else could be in the pipeline. As for the burning question of whether Trump could decide to lift the sanctions against Russia, we asked our Grayling colleagues in Moscow to take the pulse of the US-Russia relationship.

In Europe, the long-awaited Brexit negotiations are set to be launched next month. Last month, UK Prime Minister Theresa May set out her intentions in view of the negotiations, and we now have a clearer idea of what the UK wants from the process. Will the rest of the EU agree?

On a more "business-as-usual" note, the European Parliament elected Italian Conservative Antonio Tajani as its new President and Malta took over the Presidency of the European Union for the next six months, leading us to wonder whether the smallest country in the EU is big enough to deliver.

We also take a closer look at the latest tax cases brought by the European Commission, which affect many large US multinationals, to gauge how much companies should be worried about having to reimburse years of tax breaks negotiated with EU governments.

Happy Reading!

Delphine Millot
Head of International Public Affairs
Trump's Executive Orders: The good, the bad, and the ugly


No sooner was President Trump sworn in, he began flexing his muscles by issuing a number of Executive Orders (EOs), with still others expected in the coming weeks.

One of the first was a directive to federal agencies to allow states greater flexibility in carrying out healthcare programs. One of President Trump's campaign promises was to repeal and replace the Affordable Care Act (ACA), and he seems to be keeping his word.

Obamacare on the rocks

In the meantime, the Senate and House are in the process of drafting legislation to repeal and replace so-called Obamacare, but the process is complex and time consuming. In fact, according to a report recently issued by the Office of Management and Budget, repealing Obamacare without an immediate replacement could leave approximately 19 million people without health insurance.
Senators Bill Cassidy of Louisiana, who is a physician, and Susan Collins of Maine have introduced a bill of their own, the Patient Freedom Act, which proposes three options for the states: keep Obamacare, switch to a different insurance expansion, or go forward with no coverage expansion at all. This is a priority issue for the House, Senate, and the Trump Administration, but will clearly take some time to work out.

Another Executive Order requires that for every new regulation proposed, at least two must be identified for elimination, and the cost of planned regulations must be prudently managed and controlled through a budgeting process. There will undoubtedly be much more to come on regulatory oversight as the President has vowed to cut regulation "massively" by up to 75 percent.

Rowing back on trade

Other Executive Orders are to withdraw the United States from the Trans-Pacific Partnership Negotiations and Agreement, prohibit foreign aid from the U.S. to be given to any NGO abroad that discusses abortion as a family-planning option, and to freeze the hiring of federal employees, excluding military or national security personnel.

President Trump came to office promising to revisit -- and possibly gut -- existing trade pacts in an effort to reclaim manufacturing jobs lost overseas. It is unclear at this point what the next steps are or whether countries that have spent years negotiating the TPP will be willing to enter into new talks.

Legal battle over the immigration ban

Perhaps the most controversial Executive Order is to limit immigration from seven Middle East countries for 90 days, halt the refugee program for 120 days, and suspend the admission of Syrian refugees indefinitely. The immigration order has since been halted by a judge and will now be heard by the Court of Appeals.

Other executive actions are expected on high-skilled visas, an issue which greatly impacts the manufacturing segment of our economy. Several bills on this matter have already been introduced in Congress and we expect both the House and Senate will get to work on immigration policy changes later this year.

Trump has hit the ground running - the question remains however whether he will continue to run into judicial or political obstacles - and how he will circumvent them when they arise.

MJ Marshall, Grayling D.C.
UK to leave Single Market and Customs Union


On 17 January we finally got a clear idea of the UK's main objectives for the upcoming Brexit negotiations. UK Prime Minister Theresa May delivered a speech in which she set out 12 principles which would govern how the UK approached the negotiations with its EU partners.

Most striking was the stated intention to leave both the Single Market and the Customs Union – although on the latter she seemed to want a customs relationship with the EU which closely mirrored that of Customs Union membership.

So why has she done this?

On the Single Market, Ms May was boxed into a corner. With UK voters appearing to want to limit immigration, she had to ensure that the country controlled its own borders – yet being a member of the Single Market entails signing up to the principle of the free movement of people. It is likely she wanted to stay in the Single Market and control immigration, but this not being possible, she had to opt for one or the other.

Leaving the Customs Union enables the UK to sign its own trade agreements with third countries, but there is the risk that this could lead to huge queues at the country's ports of exit and entry, with goods having to be checked frequently. Here, Ms May tried to fudge the issue, knowing that the UK had to be seen to be truly independent, but appreciating that the business impact of leaving the Customs Union needed to be mitigated.

What happens next?

Ms May aims to launch the Brexit process with the EU – so-called "triggering Article 50" – at the end of March, once both houses of the UK Parliament have approved this move. From that point forward, the UK has two years to negotiate some form of exit agreement with the EU. Although it would also like to agree a free trade deal in this period, the EU has said this can only be done once the UK has formally left the EU.

The business impact?

Leaving both the Single Market and the Customs Union is businesses' worst nightmare. Anyone hoping for minimal changes to the status quo will have been shocked at the audacity to leave what has been up to now a hugely successful trading relationship with the European continent. Supply lines will have to change, trading tariffs could be introduced, and there could be additional legislation to be managed by companies.

Brexit is a broad issue, and many related problems are still to be clarified – the border between North and Southern Ireland, the Scottish independence question, the customs relationship with the EU, and the rights of UK citizens in the EU and vice versa. The Grayling team will keep an eye out on all these issues.

Robert Francis, Grayling Brussels

The New U.S. Ambassador to the U.N.: "A change in the way we do business"


Former South Carolina Governor Nikki Haley was last month sworn in as the new U.S. Ambassador to the United Nations.
Haley was the first female Governor of South Carolina and the second Indian-American to serve as a governor in the United States. She was born to an Indian Sikh family; her parents are immigrants from Punjab, India, who first came to Canada when her father received a scholarship offer from the University of British Columbia.

She was previously CFO for a multi-million dollar clothing shop set up by her mother, shortly after graduating from Clemson University with a degree in accounting.

In 2004, Haley ran for the South Carolina House of Representatives, a seat she held for three terms. In 2009 Haley ran for governor of her home state and became the first Sikh governor in U.S. history.

Her nomination as Ambassador was not without controversy. At the confirmation hearing before the Senate Foreign Relations Committee, Senator Chris Coons (D-DE) voted against her because, "she did not convince me that she understands and embraces the foreign policy principles that the U.S. has championed over the past 70 years to serve effectively as Ambassador to the United Nations."

In her first formal appearance at the U.N. Security Council, the Ambassador blamed Russia for renewed, deadly fighting in the Ukraine and -- contrary to the President's prior statements -- that U.S. sanctions against Moscow would remain in place. The new Ambassador has also issued a warning to allies and rivals abroad that the Trump Administration would hold accountable those who do not back the United States. "You are going to see a change in the way we do business," she said.
EU unlikely to back down on tax cases


Spurred on by calls from both the G20 and the OECD to tackle tax evasion, the European Commission is planning a further 30 investigations into alleged illegal preferential tax treatments.

EU state aid rules specify that tax deals between governments and individual companies must not grant a selective advantage to specific economic operators, but the issue has become politicised in the austerity-led economic climate in Europe, particularly when large multinationals are the beneficiaries. Countries with higher corporate tax rates such as Germany and France are lobbying the Commission to enter into battle with Ireland, Latvia and other countries which offer the lowest tax rates.

30 investigations in the pipeline

The Commission has launched 8 investigations into allegedly illegal preferential tax treatments since 2013, with unofficial sources reporting a further 30 in the Commission's pipeline. Indeed, the fight against tax evasion and tax avoidance in Europe is the number one priority of the Juncker Commission's EU Agenda for Taxation.

Although the Commission has no power over national tax regimes, it believes it has the authority to assess tax rulings that lead to one company being treated differently from another and distorts competition, thereby amounting to illegal state aid. It has already published an Action Plan for fair and effective taxation in June 2015, one of whose key actions is to establish a framework against tax avoidance.

The Commission is focusing on some of the most profitable and well-known
companies - Fiat, Starbucks, Amazon, McDonald's and Apple have already been targets - with national governments being asked to collect monies which the Commission believes are owed by multinationals as a result of such deals.

A vendetta against U.S. companies?

The US tech lobby in Brussels certainly thinks so, saying the latest moves are a political ploy to weaken its dominance in the European market and help European companies to become more competitive - although European companies such as Fiat have also been investigated. With France and Germany backing the Commission to the hilt, this issue is unlikely to go away soon.

The Commission will continue to launch new investigations and release likely negative decisions – at least until the end of President Juncker's mandate at the end of 2019, and the courts will eventually have to rule on whether tax rulings constitute illegal state aid. This could mark the end for such sweetheart deals in Europe and could lead to further investigations by the Commission.


The future of Russia-US relations still uncertain?


President Putin is confident about his strength and abilities – he has enormous public support (85%) and is now re-positioning the team to increase efficiency and loyalty to the maximum.

Russia has survived the toughest years of sanctions and economic decline, and according to UNCTAD, in 2016 foreign direct investment in Russia increased by 62%.

Clearly, there are still many issues and the federal budget is still in deficit, but in international relations Russia feels stable and positive.

More caution

At first, Trump's victory was hailed as a victory for Putin, with expectations that anti-Russian sanctions will be softened or lifted, and Russia and the US would become, if not friends, then business partners.

Now the attitude is more cautious: the recent telephone conversation between Putin and Trump was viewed as being positive by both sides, but no moves have yet been announced, and there is no certainty about the situation. Trump needs to decide on the role he wants Russia to play, since Russia will not want to be seen as a mere regional leader or a rogue state currently under sanctions.

The first test to the relationship may be the US response to last week's escalation in Ukraine, based on which the Kremlin will decide on whether and how to talk to Trump on other issues.

Galina Beltyukova, Grayling Russia
@GraylingRU
Brexit cocktail in Brussels!


Not bored of Brexit yet? No, nor are we!

On 30 March the Grayling Brexit Unit (GBU) is hosting a Brexit Cocktail from 6.30pm at our offices, Avenue des Arts 46, Brussels.

We want to highlight how business can approach Brexit as an exercise in damage limitation and make the most out of a difficult situation.

The event will bring together major businesses, EU/UK decision-makers, and leading academics to discuss how we can understand, approach and shape what Brexit means for the future EU-UK trade dynamic.

If you would like to attend or have any questions, please contact robert.francis@grayling.com - you can also check out our GBU brochure here.

---
Delphine Millot