Andy Burnham, Mayor of Greater Manchester, speaks at exclusive Grayling event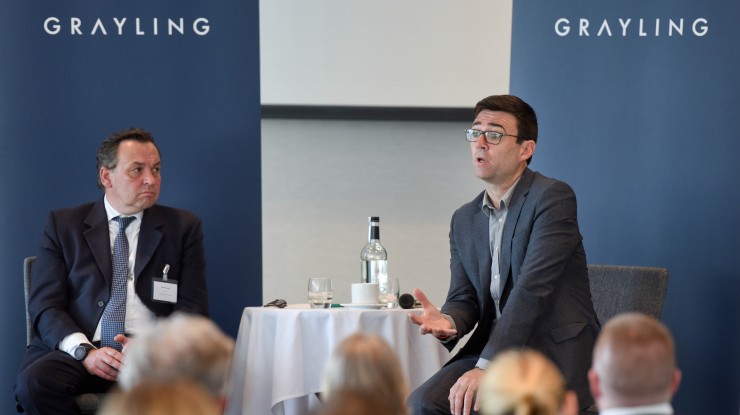 7th June 2018
---
Andy Burnham, the Mayor of Greater Manchester, joined Grayling in Manchester on 5 June to speak exclusively to business leaders of the North West about topics affecting the region including devolution, transport, and housing.
Manchester's Place and Future
Speaking with Richard Jukes, Chairman of Grayling UK, Burnham explained how he saw Greater Manchester as being in a unique position. The Mayor outlined the city as a leading example for the rest of the North, with the most devolved power of any other area in northern England.
Manchester is a strong city in the middle of a growing metropolis that promises to yield results for the satellite towns that surround it. This sets this northern hub apart from the rest of the devolved areas of the UK and underpins its potential to lead the Northern Powerhouse.
The Mayor also highlighted how the political stability of Manchester allows for innovative and novel ideas to be tried out, something he said that can't be achieved in London saying; "You can have one conversation with Greater Manchester in the way you can't with London. This is a good laboratory to prove a concept."
Looking to the future, the Mayor emphasised how Manchester has always been an industrial leader and needed to get back into that driving seat. He set out what he sees as the big forces for the economy of the 21st century: decarbonisation, digitalisation and how he has placed them as central to his strategy for Manchester's future.
Devolution
The Mayor spoke candidly about how he had become disillusioned with Westminster politics before leaving Parliament to stand for Mayor – a move that has given him a new perspective on how politics can be approached differently.
He explained "I fell out of love with Parliament because it's a place that doesn't get things done. It's built for point scoring… I see a need to create a different politics which is more about place than Party."
In this vein it was refreshing to hear the Labour Mayor praise the former Conservative Chancellor, George Osborne, saying that he deserved a lot of credit for devolution and how since he had left the commitment to devolution had become lukewarm.
The Mayor's rallying cry was to "let this great city decide its own future." Burnham concluded on the subject by saying that only full devolution was the answer to deliver economic prosperity for Greater Manchester.
Transport
Unsurprisingly, the Mayor addressed the current state of the train service currently on offer from Northern both in Manchester and across the North of England saying, "When things go wrong with our transport system, the government should expect to hear from us. And they have done."
Despite the headlines, Burnham reiterated that his commitment to modernising northern transport goes beyond trains, highlighting the £160m fund he designated to promote and prioritise cycling and walking across Greater Manchester, as well as his ambition to deliver a free bus pass for 16-18 year olds – something he has been working on with the region's bus companies.
Housing
The Mayor was keen to highlight that the Greater Manchester Spatial Framework (GMSF) would be outlining its ambitious plans to provide the land for jobs and new homes across the city region in July.
Initially stalled by the local elections in May and due to be affected by a change in the leadership of Trafford, Oldham and Wigan, Burnham was keen to highlight that it wouldn't come into force until 2020. Therefore, there will be plenty of opportunities for local communities to engage with the process and have their say.
Event Summary/Analysis
Burnham was clear that inclusivity is a key pillar of his mayoralty. While he was keen to provide updates on the latest developments in Greater Manchester but was also eager to listen to the views of those who attended and was prepared to ask for their thoughts on several topics. A great example of the Mayor's new way of doing politics.
If you are interested in hearing more about Grayling's event with Andy Burnham or would like to attend Grayling's future events with the UK's most influential politicians, please let us know.
Email us at: uk@grayling.com
Tell us your GDPR preferences here.
---
Grayling Team