Post-Brexit trade: are free ports the answer?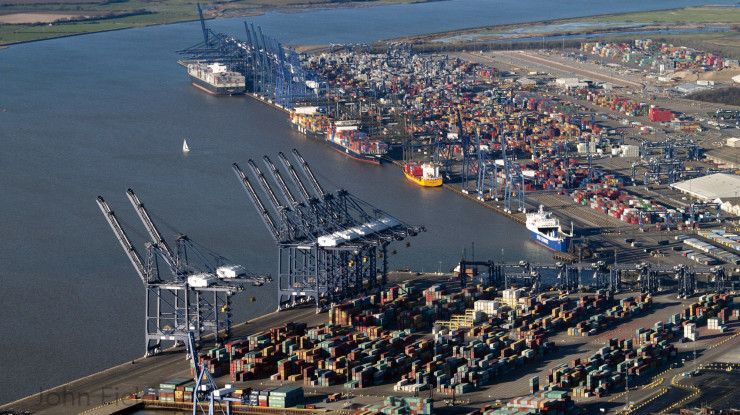 10th August 2018
---
Jamie Goldsmith, Senior Account Executive, from the Grayling London Public Affairs team asks whether a no-deal Brexit will cause delays for goods at the border and if the creation of free ports could be the answer to addressing the north-south divide.
With Brexit day now approaching at a rapid pace and Parliament in deadlock, the prospect of a no-deal Brexit is being reported as more likely than ever before. Increasing numbers of stories are emerging of businesses drafting contingency plans as they prepare for a future of World Trade Organization tariffs and customs checks at the border, which many say will lead to lengthy delays and jeopardise just-in-time supply chains.
Our membership of the Customs Union does allow goods from the EU to roll straight off planes, trains and ferries and on to the motorway, whereas goods from outside the EU are subject to tariffs and checks. The prospect of lengthy delays will understandably worry businesses, especially those who rely on fresh food, perishable goods or components which are required for tight deadlines on production lines.
But should they worry as much as some say they should?
At present, the Port of Southampton, which is the UK's second largest container terminal, sees 37 million tonnes of trade passing through every year including more than a million containers. It is impossible for customs officers to inspect every container, so to minimise unnecessary checks and disruption to supply chains, the customs system is intelligence-led to ensure that goods can flow as freely as possible while maintaining security.
Through risk assessments and identifying high-risk traders, document checks are carried out on less than three per cent of non-EU imports, with some also requiring physical checks. This means that traders who regularly transport goods through the port can do so in an efficient manner. Government IT systems and special trader designations also allow importers to benefit from simplified customs procedures and the ability to pay duties ahead of time. This system is being replaced by a larger and theoretically more efficient system just weeks before the UK leaves the EU in March 2019. However, delays and teething problems with these sorts of projects are not unusual.
The prospect of no-deal means that, in theory, all lorries and containers from the EU will be eligible for customs checks. However, given the processes that already exist for non-EU goods and the amount which are not checked, the actual proportion of EU goods that will be stopped and checked may be relatively low.
Of course, the vast number of lorries and ships that arrive from the EU does mean that a huge number of goods could still be checked, especially if we assume that a similar proportion will be checked in relation to non-EU goods. Reports by select committees and the National Audit Office have also found that the border authorities are not yet prepared for a no-deal outcome, with more customs officers required to carry out checks on a greater amount of goods. Some ports also lack adequate space to conduct necessary checks.
However, given the long established and close trading relationship that the UK has with the EU, as well as the high regulatory standards that exist on both sides of the English Channel, many commentators have suggested that the vast majority of goods that come from the EU should ultimately proceed without checks. Some government ministers have also suggested that, if ports cannot handle the increased amount of checks, goods may just be waived through as a short-term remedy.
In the longer term, the introduction of free ports – technically known as free economic zones – could provide a different method of treating goods. These free ports would geographically be in the UK, but crucially they would be outside of its customs border. This means goods could be imported tariff free and then processed or combined with other products for export. If goods are destined for the mainland, then duties could be deferred until they leave the free port area some weeks or months later, theoretically minimising the strain on any customs checks.
Thousands of free ports already exist around the world, facilitating tariff-less trade and free passage of goods to the value of $500bn. A 2016 report by the Centre for Policy Studies concluded that if introduced in the UK, free ports could create tens of thousands of jobs because businesses would be able to locate themselves within the customs free area, allowing them to manufacture their products with components that have been imported tariff-free before they are exported or sold into the British marketplace. Such areas could also have lower VAT and corporation tax levels as well as support for research and development.
One example is the free port of Jebel Ali in the United Arab Emirates which employs 135,000 people and is now home to thousands of businesses from 100 countries. In total, 3,500 Free Trade Zones around the world employ 66 million people, with the USA now home to 250 free ports.
As the Centre for Policy Studies suggests, communities across Britain could significantly benefit from the introduction of free trade areas. In the north, this could include Newcastle, Teesport and Immingham. Businesses including car manufacturers – which support thousands of jobs in the midlands and north – could move all or some of their operations into a free port, significantly reducing costs and increasing productivity. The location of free ports could also make the UK more competitive with the continent, with many firms opting to move from the EU to a British free port in order to avoid import tariffs that the EU impose. This would bring more inward investment and job creation, helping northern regions to compete with London and the south.
Of course, the establishment of free ports is a longer-term project which will not address the short-term effects of a no-deal outcome or the concerns raised by MPs and officials about the lack of border resources and capacity. Furthermore, it is unclear how non-tariff barriers such as rules of origin and regulatory checks would apply to free ports. However, taken together, the prospect of free ports and the suggestion that only minimal checks will be made on EU-goods might provide some consolation (and opportunities) for concerned businesses and consumers.
If you would like more information on free ports, or Brexit in general, please contact jamie.goldsmith@grayling.com.
Picture: John Fielding, CC BY-SA 2.0
---
Grayling Team