Spring Statement Analysis - Where does it leave us?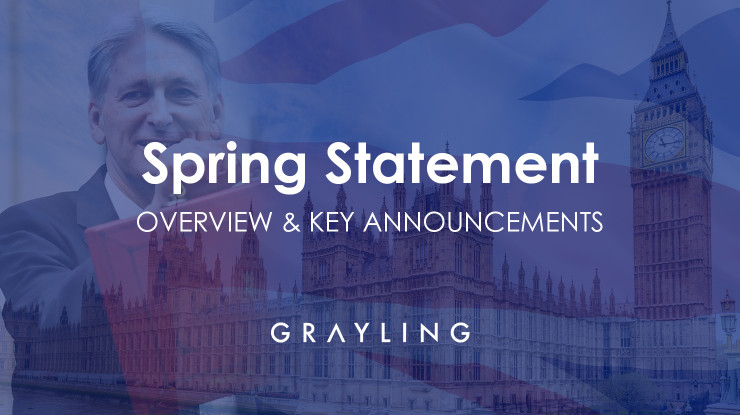 13th March 2019
---
By Alan Boyd-Hall, Head of Public Affairs - Grayling UK
Overview - Sunlit uplands, but it all hinges on the deal
As the high drama of Brexit continues to play out this week, you could be forgiven for believing Philip Hammond's description of the Spring Statement as a "fiscal non-event". Despite healthier-than-expected news for the public purse, this year's statement was never predicted to reveal major new spending plans or tax changes. In short, Hammond kept good on his pledge to keep fiscal headroom in reserve to prepare for the possibility of a No Deal Brexit.
So, what did we learn? This Spring Statement acted very much as a precursor to the Government's upcoming Spending Review, which is due to kick off before the summer and conclude in the autumn. Hammond again promised a "Deal dividend", calling on the Commons to back an orderly exit in order to unlock £26bn of extra tax and spending power.
As such, new spending announcements were limited to some minor handouts and a couple of surprises.
Infrastructure, science and technology spending received a small bump. There was good news for the Borderlands as well as cities across England in the form of a cash boost to fund transport improvements. More money was allocated for full fibre projects in some areas. Hammond also announced a new consultation for supporting private infrastructure investment when the UK parts ways with the European Investment Fund, and promised a National Infrastructure Strategy to be published alongside the Spending Review.
Hammond courted younger voters with pledges on housing and the environment. Alongside £3 billion to support the delivery of 30,000 new affordable homes, he promised a green paper on accelerating the end-to-end planning process. In light of the recent headlines on the worrying number of species facing extinction, Hammond announced a new biodiversity review. He promised measures to decarbonise the gas grid. And perhaps most surprisingly, Hammond revealed a new Future Homes Standard, which would mean the end of gas and oil heating in new homes by 2025.
But these announcements could not escape the looming shadow cast by Brexit. Indeed, earlier in the day Hammond revealed trade plans to limit the damage of a No Deal, ensuring businesses would not pay tariffs on the majority of goods when importing into the UK.
Hammond ended his speech promising that "a brighter future is within our grasp". This will not escape the attention of future Conservative leadership contenders. Provided all goes to plan, the next Prime Minister will be sitting on £26 billion of tax cuts and departmental budget rises that could bode extremely well for any future election.
Key announcements
Economic growth
OBR forecasts growth of 1.2 per cent this year, 1.4 per cent in 2020, and 1.6 per cent in each of the final three years.

By 2023 OBR forecasts an expected 600,000 more new jobs.

The OBR has revised wage growth up to 3 per cent or higher in every year.

Borrowing this year will be 1.1 per cent of GDP – £3bn lower than forecast at the Autumn Budget.

Debt lower than forecast in the Budget, falling to 82.2 per cent of GDP next year, then 79 per cent, 74.9 per cent, 74 per cent, and finally 73 per cent in 2023-24.
Business and Employment
Updated National Infrastructure Strategy to be published alongside Spending Review.

Company audit committees will be required to review payment practices and report on them in their annual accounts ahead of Government's response on late payments.

Planning for Future High Streets consultation published, exploring potential changes to help local areas make better use of planning tools to support their local high streets.

Professor Arindajit Dube to undertake a review of the latest international evidence on minimum wages, to inform future National Living Wage policy after 2020.
Brexit
Whitehall mitigation processes are in place for our borders in the event of no-deal.

Treasury and Bank of England have all fiscal and monetary powers necessary that would allow for necessary changes to the economy in the event of no-deal.
Housing and infrastructure
£3bn affordable homes guarantee scheme to support delivery of 30,000 affordable homes.

Up to £260m for the Borderlands Growth deal.

£717 million from the £5.5 billion Housing Infrastructure Fund to unlock up to 37,000 homes at sites including Old Oak Common in London, the Oxford-Cambridge Arc and Cheshire.
£60 million of investment in 10 cities across England as part of the Transforming Cities Fund announced at Budget 2017.
Consultation on our approach to supporting private infrastructure investment once we leave European Investment Bank.
Home Affairs
From June 2019 citizens of United States, Australia, New Zealand, Canada, Japan, Singapore and South Korea will be able to use e-gates at UK airports and UK ports of entry.

From autumn 2019 the UK will completely exempt PHD level roles from the UK Visa caps.

£100 million targeted specifically on knife crime for police forces in the worst affected areas in England and Wales.
Education and Skills
The halving of the co-investment rate under the Apprenticeship Levy from 10 per cent to 5 per cent, and the ability for employers to transfer 25 per cent to their supply chains, has been brought forward to April 2019.

The Department for Education will lead work to develop a national scheme in England to provide free sanitary products to girls in secondary schools.
Science, Tech and Digital
£79m investment for ARCHER 2, a new supercomputer to be hosted in Edinburgh university.

£81m in new Extreme Photonics Centre in Oxfordshire.

£45 million for Bioinformatics research in Cambridge.

CMA will undertake a market study of the Digital Advertising market as soon as possible.
Transport
The Government will publish a call for evidence on whether all passenger carriers should be required to offer genuinely additional carbon offsets.

Publication of the Future of Mobility: Urban Strategy, aimed at putting the UK at the forefront of mobility, such as the growth of electric vehicles and the development of self-driving vehicles.
Energy
Guaranteed funding for the JET Nuclear Fusion Reactor, irrespective of Brexit.

A new 'Future Homes Standard' mandating the end of fossil fuel heating systems in all new houses from 2025.

Government to consult on the appropriate mechanism to increase the proportion of green gas in the grid.

Government is launching a call for evidence on a business energy efficiency scheme to explore how it can support small business investment in energy efficiency measures

A call for evidence published on strengthening the UK's offshore oil and gas decommissioning industry.
Environment
Government to launch a comprehensive global review of the link between biodiversity and economic growth.

Following consultation, the Government will use the Environment Bill to mandate biodiversity net gain for development in England.
Contact us
Alan Boyd-Hall
Head of Public Affairs
Tel: 0203 861 3783
Email: alan.boyd-hall@grayling.com
@GraylingUK & @Grayling_PA
grayling.com
---
Alan Boyd-Hall