Talking about a revolution: will nationalisation define a future Labour government?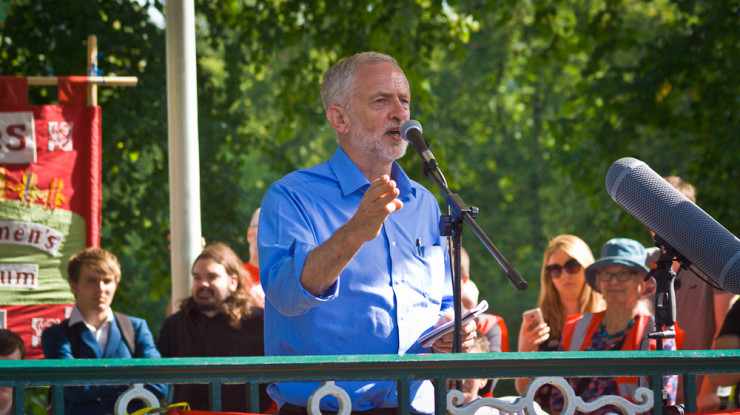 24th August 2018
---
As Brexit divisions raise the pressure on the Conservative Government and the prospect of the Labour alternative becomes ever more real, Oliver Hudson, Senior Account Executive in Grayling's London Public Affairs team, asks what we could expect from a possible Corbyn administration.
With the clock ticking on the need to find a Brexit deal, and Tory divisions over Chequers showing no signs of abating, the prospect of an election next year begins to seem less fanciful. With Labour and the Conservatives persistently at level pegging in the polls, attention ought to be turning to what a Corbyn-led Government, and country, might look like. But amid the ongoing anti-Semitism crisis engulfing the Labour Party, focus has slipped from the policy detail of what would be the UK's first avowedly left-wing administration for decades.
Any Government knows that its 'first 100 days' are crucial: the imprint made and momentum garnered in that early period of office sets the tone for the next five years, and in many cases, will help determine the legacy of that Government long after it loses power. This was the case with New Labour's "five pledges" set out on a business card at the 1997 election, while the 2010 Coalition Agreement provided a similar impetus, with the Government ploughing ahead by setting out ambitions for enduring reforms to health, education and welfare within its first year of taking office.
What then, should we expect from the first 100 days, or even the first term of a Corbyn administration? This is much more difficult to map, largely because the 2017 Labour manifesto was drafted hurriedly by the leader's inner circle of advisors with minimal input from the wider Shadow Cabinet or Party membership.
However, one area where Labour have wasted no time in fleshing out policy has been on the nationalisation, or as the Party euphemistically calls it, the 'alternative models of ownership' agenda. This was the topic of both a major report, commissioned last year by Rebecca Long-Bailey, and a conference, where both Jeremy Corbyn and John McDonnell gave keynote addresses earlier this year. In short, Labour has pledged to return the rail, energy and water sectors to some form of public ownership, as well as reverse the Coalition's Royal Mail sell-off and bring national grid infrastructure under a complicated form of local ownership and control.
The danger here is that these headline commitments obscure a rather more complex and nuanced picture. Labour is well aware that the term 'nationalisation' remains synonymous with the inefficient, strike-riddled industries of the post-war era, and that if the Party is to reignite the debate on public ownership, it needs to develop a new language, new ideological reference points, and ultimately, new ideas. In Labour's own words, "nationalisation for the 21st Century."
Labour is at pains to demonstrate that a modern public ownership agenda rejects a top-down, one-size-fits-all approach, and instead embraces diverse options, ranging from municipal ownership of services by local authorities (of the sort trialled by the Labour administration in Preston), to continental co-operative models of the kind seen in Italy, and more traditional Government Owned Companies, along the lines of Network Rail.
Few doubt that the immediate legislative priority of a Corbyn government would be to take back rail franchises from the private operating companies as these expire, made easier because time-limited franchises remove the need for complicated legal wrangling on shareholder compensation. PFI would be a similar story. Yet, water and energy renationalisation would be far more challenging, and would almost certainly fall down the legislative pecking order, as the Government would effectively be seeking to bring ongoing contracts in these sectors to an end.
John McDonnell's assertion that it would be "for Parliament" to decide the price of shareholder compensation is only half-correct, insofar as Parliament is bound to work within the parameters of international treaties that govern ownership rights. A direct challenge to these from a new administration would almost certainly trigger expensive compensation claims by investors, with any delay likely to increase opportunities for sustained lobbying efforts from those at risk industries.
The key takeaway here is that the stakes could not be higher for Labour's flagship nationalisation policies, and the opportunities for at risk parties to frustrate these could not be greater. An incoming Labour government would likely suffer a dramatic loss of momentum as a result and could exit its first 100 days with few 'big wins' to match the scale of expectations set by a radical manifesto. Whether that can be more than compensated for in the following four and half years is anyone's guess. What is clearer is that a new Corbyn government would be lighter on 'revolution' and heavier on hard legislative graft, if it set out on its daunting mission to transform Britain's political and economic status quo.
If you would like to find out more about Grayling's Public Affairs offer, get in touch with Jonathan.Curtis@grayling.com and follow the conversation and latest updates @GraylingPR.
---
Grayling Team