Theresa May resigns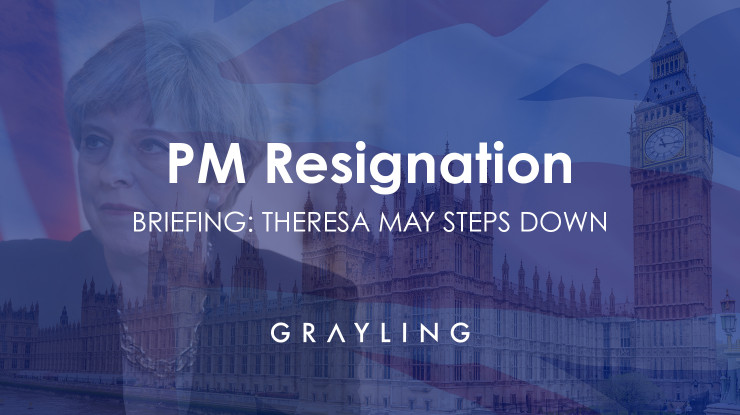 24th May 2019
---
An emotional farewell
As Theresa May came out of 10 Downing Street to address the nation this morning, there was little doubt about her intentions. Following enormous pressure from her party, Cabinet and a final meeting with the Chair of the backbench 1922 Committee, May gave the nation an emotional farewell, stating that her successor would have to "find compromise where I have not".
May stated that "compromise is not a dirty word … life depends on compromise." The question remains as to whether a Brexit compromise really exists. However, what is clear is that May's negotiations with the Labour Party and her last ditch efforts to find consensus – in part by opening the door to a second referendum – were seen by many in her party as a compromise too far.
What happens now?
May has announced that she will step down as Conservative leader on 7th June following President Trump's state visit. The Conservative Party leadership contest will begin the following week, on Monday 10th June. May will continue as Prime Minister until a new leader is chosen.
The leadership election will begin with a shortlisting stage. Conservative MPs need the nominations of two other MPs in order to stand. This will be followed by a series of votes by Conservative MPs to whittle down the candidates to a final two, with the candidate with the fewest votes removed at the end of each round.
In the final stage, the party membership is asked to vote in order to choose between the final two candidates. The timescale for the contest will be set out by the 1922 Committee – in 2016 the process was scheduled for 10 weeks, although there is a possibility that a shorter timescale may be set out this time around with the contest wrapped up before the summer recess.
Potential successors
Polling of party members currently shows Boris Johnson as the overwhelming favourite to be the next leader. His key challenge will be securing enough parliamentary support to get onto the final ballot, and he faces tough competition from former Brexit Secretary Dominic Raab and Andrea Leadsom, the latter of whom recently resigned as Leader of the Commons in protest against Theresa May's approach to Brexit.
While many in the party believe that the next candidate should be a Brexiteer, the new One Nation grouping within the Conservative Party may look to rally behind a Remain candidate. Foreign Secretary Jeremy Hunt, Home Secretary Sajid Javid and Health Secretary Matt Hancock are all expected to be firmly in the frame. However, although there have been signals that this grouping may decide to throw their support behind a more socially liberal Brexiteer, with MPs such as Amber Rudd and Ruth Davidson softening their rhetoric towards Boris Johnson.
A summary of some of the key frontrunners follows below.
Boris Johnson, Former Mayor of London and Foreign Secretary
Constituency: Uxbridge and South Ruislip
Region: London
Consistently seen to be the darling of the Conservative membership and current frontrunner, Boris Johnson returned to the House of Commons in 2015 having been Mayor of London for 8 years in-between. Having played a leading role in the Brexit campaign, Johnson was appointed Foreign Secretary when Theresa May became Prime Minister in 2016 but resigned two years later over the Prime Minister's draft Withdrawal Agreement. While gaining parliamentary support was seen as his key barrier to the leadership, recent comments by leading MPs suggest that the parliamentary party could be warming to his candidacy.
Sajid Javid, Home Secretary
Constituency: Bromsgrove
Region: West Midlands
Sajid Javid is the son of a bus driver who became the youngest vice-president of the Chase Manhattan Bank. He is one of the most rapidly-promoted MPs from the 2010 intake having already held a range of Cabinet jobs, starting as Secretary of State for Culture, Media and Sport in 2014, Business, Innovation and Skills in 2015, Communities and Local Government in 2016, and Home Secretary in 2018. With solid financial backing and support from business, Javid's previous support for Remain may let him down if he makes the final run-off.
Jeremy Hunt, Foreign Secretary
Constituency: South West Surrey
Region: South East
A millionaire publishing entrepreneur, Jeremy Hunt rose quickly through David Cameron's frontbench to reach the Cabinet as Secretary of State for Culture, the Olympics, Media and Sport in 2010, five years after his election to Parliament, Health Secretary in 2012, and Foreign Secretary in 2018. While attempting to burnish his Eurosceptic credentials in the wake of the referendum, his history as a Remain voter could be problematic in trying to woo the party membership.
Michael Gove, Environment Secretary
Constituency: Surrey Heath
Region: South East
Michael Gove has held several significant posts within government. Alongside Boris Johnson, Gove played a key role in the EU referendum Leave campaign and put himself forward to be Leader of the Conservative Party, before being removed from government in 2016. He made an unexpected return to the Cabinet as Secretary of State for Environment, Food and Rural Affairs in 2017 after the Theresa May's Conservatives lost their majority at the General Election and is seen to have thrived in the role.
Dominic Raab, Former Brexit Secretary
Constituency: Esher and Walton
Region: South East
A libertarian, international lawyer and karate champion who gave up a career at the Foreign Office to work for the Conservative Party, Dominic Raab reaped his reward with a safe seat in Surrey and joined the Cabinet in 2018 as Secretary of State for Exiting the European Union for just four months. His well-timed resignation over May's Brexit agreement, and strong criticisms of the Government's approach ever since, have put him firmly in the frame as a leading Brexiteer candidate.
Andrea Leadsom, Former Leader of the House
Constituency: South Northamptonshire
Region: East Midlands
Having run for – and then dropped out of – the leadership race in 2016, Leadsom will be keen not to make the same mistakes this time around. Her strong performance as Leader of the House and recent resignation on the Brexit Withdrawal Bill will give her something of a boost, although gaining parliamentary support may be a challenge after last time.
Penny Mordaunt, Defence Secretary
Constituency: Portsmouth North
Region: South East
As a relatively fresh face, Mordaunt is seen as a candidate who could potentially surprise in this leadership election. Her strong Brexit credentials (she supported the Leave campaign) and history as a former Royal Navy reservist could stand her in good stead with the membership.
Matthew Hancock, Health Secretary
Constituency: West Suffolk
Region: Eastern
With a background in tech and at the Bank of England, Matt Hancock has risen quickly through the government ranks. He has held many ministerial positions and was promoted to the Cabinet as Secretary of State for Digital, Culture, Media and Sport in January 2018, quickly becoming Health Secretary six months later. While his energy and gregariousness have won him much financial and political backing, he is still seen as something of a long shot to take the top job.
Amber Rudd, Work and Pensions Secretary
Constituency: Hastings and Rye
Region: South East
A former financial journalist, venture capitalist, head-hunter and businesswoman, Amber Rudd won the 2010 battle of Hastings and Rye and climbed the ranks quickly, becoming Home Secretary in 2016. Forced to resign in 2018, she returned to the Cabinet later that same year. While Rudd is popular with parliamentary colleagues, her strong support for Remain means that she may struggle with the largely Brexit-supporting membership.
Other candidates
There are many other potential candidates who could choose to throw their hat into the ring – or indeed already have. James Cleverly, Liz Truss, Priti Patel, Esther McVey and Rory Stewart are amongst the young pretenders who may cause an upset. Alternatively, another Brexiteer, such as Steve Baker, who has not voted for the PM's deal thus far, could decide to run as a 'purer' Brexiteer.
Contact us
Alan Boyd-Hall
Head of Public Affairs
Tel: 0203 861 3783
Email: alan.boyd-hall@grayling.com
@GraylingUK & @Grayling_PA
grayling.com
---
Grayling Team