Wales Event - 23 January: SELLING WALES TO THE WORLD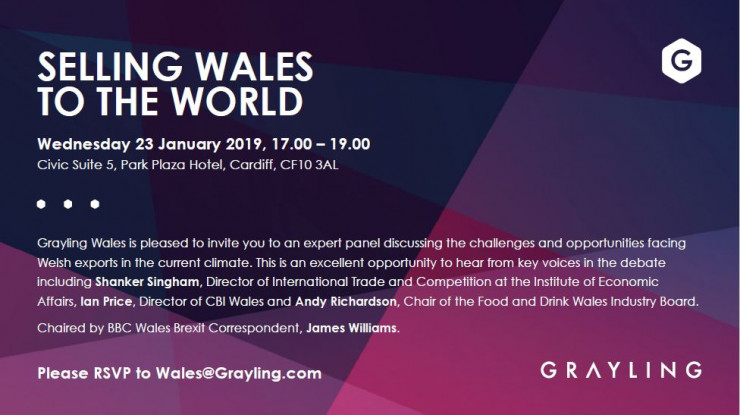 22nd January 2019
---
On 23 January 2019, Grayling Wales hosts a discussion on the issues facing Welsh exports in light of the current political landscape with some of the country's leading experts.
The debate will be chaired by James Williams, BBC Wales Brexit Correspondent, and take place at Civic Suite 5, Park Plaza Hotel, Cardiff CF10 3AL.
The Panel:
Shanker Singham - Director of International Trade and Competition at the Institute of Economic Affairs
Described by Michael Gove as the UK's "leading expert on trade deals", Shanker has become one of the country's most influential pro-Brexit thinkers since the EU referendum. As a leading expert on international trade, he has advised governments and companies around the world on global market access issues, including WTO and Free Trade Agreements.
Ian Price - Director of CBI Wales
Ian currently sits on behalf of the CBI on the Secretary of State for Wales Expert Implementation panel on Brexit and on the First Minister for Wales Social Partners Strategy Group. While at the helm, the CBI had backed the Prime Minister's withdrawal agreement, saying that the agreement reached between London and Brussels represented hard-won progress and that going backwards would damage Britain's prosperity.
Andy Richardson - Chair of the Food and Drink Wales Industry Board
Andy is a key member of a number of industry strategy and sustainability initiatives, including the Westminster Dairy Supply Chain Forum, Welsh Dairy Task Force, Cambridge University's Sustainability Agriculture Task Force and the Cambridge Programme for Sustainable Leadership.
If you would like to attend, please contact wales@grayling.com or call +44 (0) 2920 504 894
---
Grayling Team