Christine McKenna named as PRCA Young Public Affairs Professional of the Year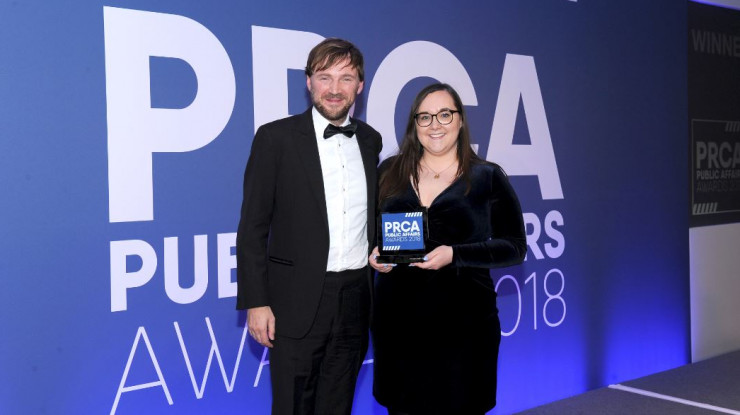 7th December 2018
---
Grayling's Christine McKenna has won the Douglas Smith prize for young public affairs professional of the year at the PRCA Public Affairs Awards in London.
As an Account Manager in Grayling's award-winning public affairs team, Christine has contributed towards a range of creative campaigns that have fundamentally changed clients' approaches to public affairs. The award was based on her political insights, innovative approaches to campaigning, and her wider work, including on election campaigns for the Labour Party and working in partnership with Women in Public Affairs.
Christine has also driven forward Grayling's wellbeing initiatives that have been rolled out companywide, run a series of training sessions on parliamentary process and campaigning, and taken a lead on building Grayling's cutting-edge political intelligence both in Westminster and the devolved administrations.
The award followed a gruelling competitive process, with the judges praising Christine's standout written submission and panel interview.
Alan Boyd-Hall, Grayling's Head of Public Affairs, said:
"Christine is thoroughly deserving of this award. She embodies everything our team is about – passion, enthusiasm, creativity and political nous. She won this award not simply on the strength of her outstanding work for clients, but for her tireless efforts more widely in mentoring young people seeking a career in public affairs, our wellbeing initiatives and valuable contribution to Women in Public Affairs. We are immensely proud of her achievements and strongly believe she is destined to become one of the leading lights of the industry."
The Douglas Smith Prize was launched in 2013 in memory of PRCA Founding Fellow Douglas Smith.
Contact our the award-winning Grayling Public Affairs Team by emailing uk@grayling.com
---
Grayling Team