State of engagement: Why digital channels and young people may hold the key to widening participation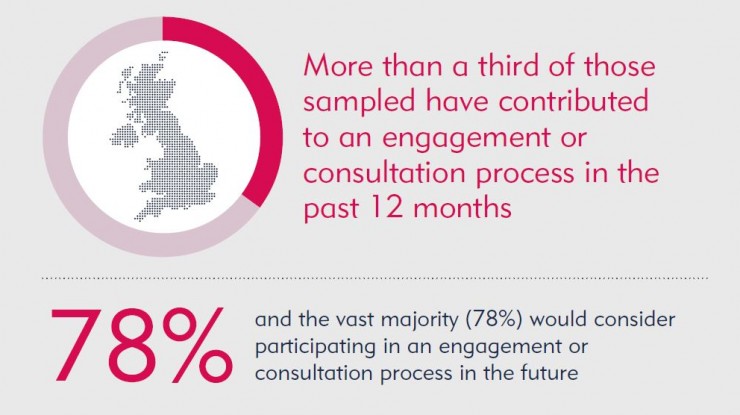 13th July 2017
---
Grayling Engage launches its first State of Engagement Report
Grayling UK's specialist stakeholder relations and public consultation and engagement practice, Grayling Engage, launched its first State of Engagement Report.
The report identifies a number of trends, challenges and opportunities for communications and engagement professionals from the need to integrate digital platforms with traditional face to face activity to ensuring you don't get side tracked by a single, niche opposition group.
The research offers a revealing snapshot of the challenges communications professionals face when embarking on an engagement programme, whether small or large. It also provides a timely reminder that relationship building lies at the heart of any effective engagement programme.
To inform the report Grayling conducted research with a range of communications professionals and the public. This involved 11 qualitative interviews with engagement leads from some of the country's biggest infrastructure projects including Crossrail 2, Tideway and National Grid, along with those involved in the delivery of sensitive health service reform. The findings were combined with quantitative research from 2,000 members of the general public to find out what they think about engagement and when and how they like to be involved in local decision-making.
Nearly eight out of ten people polled told us they felt it was important for local people to have a say on proposed housing and infrastructure projects and changes to how health services are delivered.
More than a third of people surveyed said they had contributed to an engagement or consultation process in the past 12 months and the vast majority (78%) would consider participating in an engagement or consultation in the future.
This was also reflected in comments from the professionals interviewed with many describing how they had witnessed the growth in engagement as a formal discipline over the past five to ten years.
Grayling's Engage Director, Rikki Butler, said: "It's clear from our report how vital effective engagement is for anyone wanting to make changes in local communities – regardless of whether those changes involve new buildings or services."
This is backed by the fact that influencing the outcome and being able to review information and provide feedback online were rated as the most important considerations for people responding to consultations (65% stating both of these were important). However more than half (58%) wanted to attend an event and speak to a member of the team – demonstrating face to face engagement remains important.
The importance of digital communications was recognised by the professionals who told us digital communications was and would continue to transform how engagement is delivered. However, this was accompanied by a note of caution. Digital shouldn't be seen as the answer in itself but rather activity should be delivered as part of a fully integrated programme.
The research identified young people as the hardest audience to engage. However some professionals believed that the recent election and referendum results may help stimulate increased involvement from this audience.
Ms Butler said: "It's clear how highly both the general public and major organisations value the importance of engagement and, as recent high profile events have shown us, the role of engagement can only grow going forward. If organisations go about engagement in the right way I firmly believe that people can be involved in decisions about their local communities in ways that were simply not available to them before. And that in turn means society as a whole will be the key beneficiary."
Please click the button below to download the report.
The public poll was carried out by Opinion Matters between 29/06/2017 and 30/06/2017 on a national representative sample of 2,012 UK adults on behalf of Grayling Engage.
Visit Grayling Engage's website
---
Rikki Butler