This is the Future Calling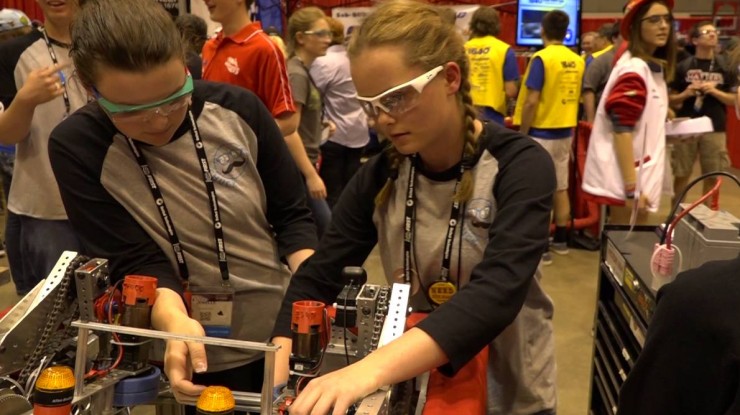 9th March 2017
---
MJ Marshall of our DC team has a glimpse into the future…
In Dallas, Texas, recently the annual high school robotics competition was held at the Irving Convention Center, and more than 50 robotics teams from across Texas and Oklahoma – as well as teams from Brazil and Chile – competed in the event.
The FIRST event (For Inspiration and Recognition of Science and Technology) is an international high school robotics building contest that began in 1992. FIRST is sponsored by various technology companies as a platform for student innovation, giving them an opportunity to solve real engineering challenges and build character and self-esteem.
The FRC – or FIRST Robotics Competition – challenges high school students to build 120-pound robots that complete a different task each year using a standard set of parts, plus any additional off-the-shelf or custom parts. Each FRC team receives a kit of parts, including motors, batteries, a control system, a PC and a mix of automation components – with absolutely no instructions. Teams have six weeks to transform their kits into working robots designed to perform specific tasks.
The Glassdoor Economic Research Report for 2017 outlines several job trends to watch. These include jobs in science, technology and engineering as well as health care, so the FIRST competitions are a good start for high school students interested in majoring in these areas in college.
According to Glassdoor's chief economist, "the fastest growing jobs today require human creativity, flexibility, judgment and 'soft skills' that require personal relationships, such as health care professionals, data scientists, sales leaders, strategy consultants and product managers."
The report also reveals that in the near future, there's a 93.5% chance that the jobs of accountants and auditors will become automated, ie use artificial intelligence and robotics. If this is indeed the case, those high school students participating in the FIRST competition are sure to have a leg up on the workers expected ultimately to be teaming up with technology to get skills training, rather than simply be replaced by it. We applaud the technology industry for sponsoring such a great path to innovation for America's future.
Contact: mj.marshall@grayling.com
---
MJ Marshall